Home/Blog / What is Invisalign®? Phoenix and Goodyear Orthodontist Explains the Benefits of Clear Teeth Aligners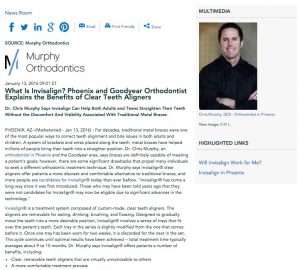 Dr. Chris Murphy says Invisalign® can help both adults and teens straighten their teeth without the discomfort and visibility associated with traditional metal braces.
Phoenix, AZ – For decades, traditional metal braces were one of the most popular ways to correct teeth alignment and bite issues in both adults and children. A system of brackets and wires placed along the teeth, metal braces have helped millions of people bring their teeth into a straighter position. Dr. Chris Murphy, an orthodontist in Phoenix and the Goodyear area, says braces are definitely capable of meeting a patient's goals; however, there are some significant drawbacks that propel many individuals to seek a different orthodontic treatment technique. Dr. Murphy says Invisalign® clear aligners offer patients a more discreet and comfortable alternative to traditional braces, and more people are candidates for Invisalign® today than ever before. "Invisalign® has come a long way since it was first introduced. Those who may have been told years ago that they were not candidates for Invisalign® may now be eligible due to significant advances in the technology."
Invisalign® is a treatment system composed of custom-made, clear teeth aligners. The aligners are removable for eating, drinking, brushing, and flossing. Designed to gradually move the teeth into a more desirable position, Invisalign® involves a series of trays that fit over the patient's teeth. Each tray in the series is slightly modified from the one that comes before it. Once one tray has been worn for two weeks, it is discarded for the next in the set. This cycle continues until optimal results have been achieved – total treatment time typically averages about 9 to 15 months. Dr. Murphy says Invisalign® offers patients a number of benefits, including:
Clear, removable teeth aligners that are virtually unnoticeable to others

A more comfortable treatment process

Improvement of gaps and spaces in the teeth

Improvement of teeth "crowding"

Improvement of overbite, underbite, or crossbite
There are two versions of the treatment: Invisalign® and Invisalign® Teen. Dr. Murphy says both techniques offer patients a way to more discreetly straighten their teeth and renew their smile. He notes that the only significant difference between Invisalign® and Invisalign® Teen is an extra component for adolescent patients to ensure they get the best results. "It is very important that patients actually wear the aligners throughout most of the day – at least 22 hours per day is typically recommended. For some teens and adolescents, it can be difficult to maintain this regimen. Invisalign® Teen has indicator buttons on each tray that track how much time the trays are being worn. This is very important in order to ensure the trays are on the teeth for the prescribed amount of time."
Overall, Dr. Murphy says Invisalign® has made it possible for those who have been wary of the hassle and visibility associated with traditional metal braces to straighten their teeth and achieve their goals without concern about the aesthetic effects of the treatment itself. "I would recommend Invisalign® to patients who wish to improve their smile and their self-confidence but ultimately want the benefit of others not seeing braces on their teeth."
With the many advances in Invisalign® technology over the years, Dr. Murphy says more and more people can take advantage of this innovative treatment option that's capable of correcting a range of orthodontic issues with greater comfort and discretion.
About Chris Murphy, DDS
Dr. Chris Murphy is a board-certified orthodontist and the head of Murphy Orthodontics. A native of Phoenix, Dr. Murphy is an active member of the American Association of Orthodontists, the American Dental Association, the Pacific Coast Society of Orthodontists, and the Arizona Orthodontic Study Group. A Recognized Specialist at the Kois Center and a Diplomate of the American Board of Orthodontics, Dr. Murphy offers a full range of orthodontic treatments for both adults and children. In addition to Invisalign®, Dr. Murphy provides treatment with traditional braces, lingual braces, In-Ovation R braces, and many other advanced options to help patients correct a number of orthodontic issues. Dr. Murphy has been featured in Phoenix Magazine as a Top Orthodontist. He is available for interview upon request.
For more information about Dr. Murphy and his practice, please visit murphyorthodontics.com and facebook.com/MurphyOrthodontics.
Contact:
Murphy Orthodontics
Phoenix/Scottsdale Office
5355 East High Street
Suite 105
Phoenix, AZ 85054
(602) 482-0022
Goodyear Office
13210 W. Van Buren Street
Suite 106
Goodyear, AZ 85338
(623) 932-9212
Rosemont Media
(858) 200-0044
www.rosemontmedia.com
Previous Post
Next Post