Dr. Chris Murphy, our Phoenix orthodontist, and our whole team place great importance on community involvement, and we have a proud history of donating our time, energy, financial support and resources to many worthy organizations throughout our community.
We are active supporters of our community schools, both public and private. Whether making a presentation in the classroom, participating in school carnivals, or hosting a field trip we are passionate about supporting education. Silent auction donations, support of parent groups, supplying needed materials, supporting fund raisers, and honoring teachers are all part of the many ways we support our schools.
Each year our team typically adopts a designated charity focus for that year. We most recently selected a focus on Autism Awareness.
Gentry Foundation For Autism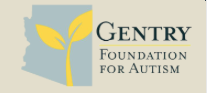 The primary mission of the Gentry Foundation is to make a difference in the lives of individuals with autism and their families.  The Gentry Foundation is committed to ensuring all children with autism get access to intervention as early as possible, regardless of their race, culture, religion, or economic status.  If you would like to learn more about this foundation we encourage you to visit www.thegentryfoundation.org
Throughout the year we feature patient contests with an extra component through which Dr. Murphy makes donations for these organizations. In addition we participate in special events to support these causes.
It is our great pleasure to give back to the community in honor of our patients! We are truly blessed with wonderful patients and families and are proud to say that they share in our enthusiasm and support our commitment to the community. They donate their own contributions and many even give up their Murphy Money tokens, which are then given as financial donations to charities.
In addition, we proudly support local and national organizations that make our communities a better place to live. We gladly have donated to and sponsored events to benefit the following worthy causes:
Phoenix 100 Club
CJD Foundation
Epilepsy Foundation of Arizona
St. Mary's Food Bank Alliance
Susan G. Komen Breast Cancer Foundation
Susan G. Komen Race for the Cure – Phoenix
Ovarian Cancer Alliance of Arizona
4th Annual Run/Walk to Break the Silence on Ovarian Cancer
Ronald McDonald House Charities of Phoenix
Arizona Humane Society, Arizona Animal Welfare League and ASPCA, HALO Animal Rescue,
Maricopa County Animal Care and Control, and Empty Bowl Pet Food Pantry
Sharing Down Syndrome of Arizona
Down Syndrome Network of Arizona
and many more!