Scholarship Program
 Murphy Orthodontics
Scholarship Program for 2018. . .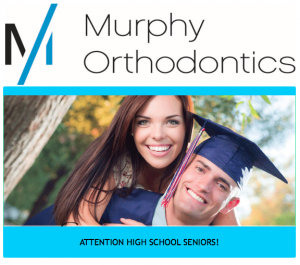 WHO:   High School Seniors who are in orthodontic treatment or who have previously completed orthodontic treatment by Dr. Chris Murphy are eligible.
WHAT:   $500 Scholarship awarded towards tuition, books, fees or related expenses.
WHEN:   Applications are available now! Applications due back in office March 19 
 
We can email an application to you. 
Put "Scholarship Application Request" in the subject line.
E-MAIL: MurphyOrthodontics@me.com
* * * * * *
2017 Scholarship Winner

Congratulations to Caleb, winner of the
2017 Murphy Orthodontics Scholarship!
Caleb will attend the Arizona State University this fall.
* * * * * * * * * * * * * *
RUNNERS-UP:
Sean
Isabella
Isaac
* * * * * * * * * * * * * *