There are a number of traditional braces techniques that can help you reposition your teeth in a comfortable, discreet manner. Traditional braces often come in both metal and clear varieties, and are composed of brackets and wires that work to move the teeth into a straighter position. Although traditional orthodontic techniques can sometimes be overshadowed by new methods such as Invisalign® and other innovations, metal and clear braces have improved significantly over the years and can serve as excellent alternatives for patients who may not be candidates for other orthodontic treatments.
Please contact Dr. Chris Murphy at Murphy Orthodontics to schedule a consultation for braces treatment. Our board-certified orthodontist can give you a full orthodontic evaluation and discuss all of your options.
Metal Braces Benefits
Often derided as not being the most aesthetically pleasing method of straightening a person's teeth, the fact is that metal braces are a highly effective, and often a more cost-effective alternative to other treatments. Plus, advances in orthodontics have made these commonly performed braces treatments more hassle-free, more hygienic, and less visible to others. Benefits of metal braces include:
Metal braces are often less expensive than other types
Innovations in design have made some metal braces more comfortable and more aesthetically pleasing
Metal braces are highly durable
Metal braces can dramatically improve the most seriously misaligned teeth and have you smiling with straighter teeth for years to come.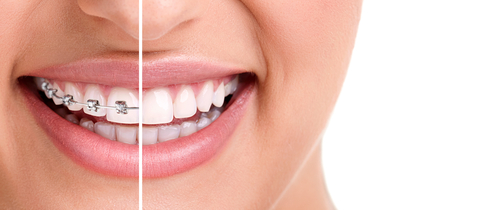 Clear Braces Benefits
Clear braces often encompass both translucent and ceramic braces. Translucent braces are typically made of a plastic alloy, and ceramic varieties are tinted to match the color of your teeth. These types of braces function very similarly to traditional metal braces, but they are designed specifically to be less visible in your mouth.
Benefits of clear braces include:
Translucent or ceramic braces are less visible than metal braces
Brackets are designed to be stain-resistant
Some types of clear braces utilize self-ligation, a technique which requires no elastic or metal ties to keep wires in place and can position the teeth with less pressure
Traditional braces techniques are not like they were in the past. Dr. Chris Murphy can come up with an orthodontic treatment plan for you that utilizes traditional braces in the most comfortable and cosmetically pleasing way possible.
How Much Do Braces Cost?
The American Dental Association conducted a survey of dental fees in 2013 that found comprehensive braces treatment for adolescents ranged from $4,685 to $6,500. The cost for an adult's comprehensive treatment was slightly higher, ranging from $4,800 to $7,135. There is a large range because there are multiple factors that make up a treatment plan with braces. Therefore, the cost of each plan will vary greatly from patient to patient. Some of the factors that help to determine the cost of your treatment may include:
The complexity of your orthodontic needs
The estimated treatment time
The experience and skill level of your orthodontist
Dental insurance can often cover part of the cost but will vary from plan to plan. Therefore, it is best to check with your insurance provider to determine what your out of pocket expense may be. We work with orthodontic financing companies that offer a range of flexible payment options for qualified applicants. We also accept cash, check, Visa®, MasterCard®, American Express®, and Discover® credit cards. At Murphy Orthodontics, we believe that you should have access to a healthy and beautiful smile, so we will work with you to find the best payment solution.
What Other Types of Braces Are Available?
Invisalign®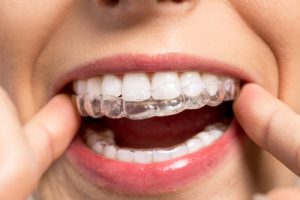 Invisalign® clear teeth aligners can be more comfortable than traditional braces, as there are no metal parts. This orthodontic system is nearly invisible and the aligners can be removed at your convenience, such as when you eat, drink, or brush your teeth. Each clear aligner is customized to address your orthodontic needs by gradually straightening your teeth and improving your bite alignment over time.
Lingual Braces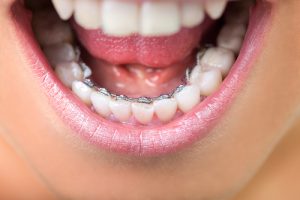 Lingual braces work similarly to traditional metal braces in that they use brackets and wires. The biggest difference between these two orthodontic treatment methods is that other people cannot see lingual braces at work. The braces are designed to go on the back of your teeth and bring them into a straighter position in the same or less time than traditional braces. They are also made with flexible wiring to help make the process comfortable and efficient.