It's a technique that uses many of the same methods of traditional braces, but with one major exception: others cannot see them. Lingual braces are designed to go on the back of your teeth, rather than the front. Using brackets and wires, lingual braces pull the teeth in a straighter position in about the same amount of time (or even less time, in some cases) that it takes traditional braces to produce optimal results. Murphy Orthodontics utilizes the advanced HARMONY System lingual braces, a state-of-the-art treatment that is known to provide patients with faster treatment times and a more comfortable and convenient experience. Board-certified orthodontist Chris Murphy, DDS offers these effective, virtually invisible braces to patients who would like to straighten their teeth without anyone noticing.
Please contact Murphy Orthodontics to schedule a consultation for lingual braces. Dr. Murphy will be happy to answer all of your questions and help you determine if lingual braces are right for your needs.
Lingual Braces Benefits
Lingual braces are ideal for teens and adults who need to straighten their teeth, but want to do so without others knowing they are undergoing treatment. These innovative braces are made with flexible wiring for comfort and efficiency, and take no longer than traditional braces to produce results.
The chief benefit of lingual braces is the fact that others can't see them. They are affixed to the backside of your teeth, so your smile doesn't exhibit the tell-tale signs of orthodontic treatment. Lingual braces are very popular with adults who want to correct crooked teeth and other issues as discreetly as possible; however most patients of any age can be treated with lingual braces. This revolutionary braces technique aims to have you smiling brightly while it works to improve your teeth, eliminating the self-consciousness that can accompany traditional braces treatment.
The HARMONY Lingual Braces Procedure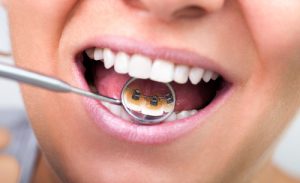 The HARMONY System is truly a breakthrough in the field of orthodontics. This type of lingual braces involves the creation of custom wires and brackets to ensure an optimal level of comfort as well as precise movement of the teeth into a more desirable position. Once a digital "impression" of your teeth has been created by our iTero™ Element™ Intraoral Scanner, the images will be sent to American Orthodontics, a renowned oral appliance manufacturer, to develop the customized lingual braces. HARMONY lingual braces are designed in a way that can help you quickly adapt to the treatment, and each bracket's low profile can make brushing and flossing your teeth much easier when compared with conventional braces. These lingual braces have rounded edges for a smoother feel in the mouth, and can result in quicker maintenance visits, more predictable outcomes, and an overall faster treatment time.
Once Dr. Murphy has given you a thorough oral evaluation and determined lingual braces are a good option for your goals, he will develop a customized treatment plan. After the lab has created the HARMONY lingual braces, Dr. Murphy will bond them to the backside of your teeth. It will take a couple of weeks to get used to the braces being so close to your tongue; however, many patients are fine soon after the braces are placed. Lingual braces can often be used as an alternative to Invisalign® for patients who would like discreet orthodontic treatment but are not candidates for that procedure.
If you would like more information on lingual braces, please contact us today!