The Comfort, Warmth, and Care You Deserve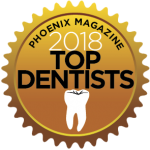 Welcome to Murphy Orthodontics, the practice of orthodontist Dr. Chris Murphy. Murphy Orthodontics has office locations in Scottsdale, Arizona(AZ) and Goodyear, Arizona(AZ) which offer high quality affordable braces and orthodontic care to the greater Scottsdale, Arizona(AZ) and Phoenix, Arizona(AZ) areas.
It is the mission of Murphy Orthodontics to provide our all of our patients in the greater Phoenix, Arizona(AZ) and Scottsdale, Arizona(AZ) areas with the highest quality of child and adult orthodontic treatment in a warm, caring and efficient environment. We are committed to providing our patients the personalized care and expertise they deserve.
Orthodontist Dr. Chris Murphy and his orthodontic staff strive to make each of our patients feel at home and comfortable in knowing that their needs will be our priority. Our common goal is to provide each of our patients the gift and confidence of a beautiful smile.
Dr. Murphy and the entire team are committed to excellence in serving our patients. We proudly offer you knowledgeable care and the best treatment options available. Our offices have been set up with our patients in mind. We continually aim to meet and surpass the needs of our patients in every aspect.
Our Scottsdale orthodontist's office offers a number of products and services for clients of all ages. These include Invisalign® braces, clear braces, ceramic braces, Damon braces, and more. Be it adult braces or braces for children, the experienced professionals at our Scottsdale orthodontics office will make your smile our priority. The list of Phoenix orthodontists is long, but not all of them are created equal. Discover top flight care in our Scottsdale and Goodyear orthodontist's offices.
Don't choose just any Phoenix orthodontist. Find the comfort, warmth, and care you deserve in Dr. Chris Murphy's Scottsdale and Goodyear orthodontics offices.
Do your due diligence when choosing a Scottsdale orthodontics office, then come to Murphy Orthodontics. Dr. Chris Murphy is a leading Phoenix orthodontist whose office offers clear braces, Invisalign® braces, ceramic braces, and more. Our Scottsdale orthodontist office isn't your only option. West side patients are invited to visit our Goodyear orthodontist office to get the care and expertise they deserve.
Two Convenient Locations
Phoenix/Scottsdale Office
5355 East High Street, Suite 105
Phoenix, AZ 85054
Phone:
(602) 482-0022
Map/Directions
Goodyear Office
14553 W. Indian School Road #100
Goodyear, AZ 85395
Phone:
(623) 932-9212
Map/Directions
Are you in need of a qualified and caring Phoenix orthodontist? The Scottsdale orthodontics professionals are experts at fixing crooked teeth. Dr. Chris Murphy is an experienced Scottsdale orthodontist well versed in both adult and child orthodontics. We're proud to offer west side patients the convenience of our Goodyear Orthodontists office. Murphy Orthodontics serves clients in the cities of:
Phoenix
Scottsdale
Goodyear
Laveen
Paradise Valley
Buckeye
Peoria
Litchfield Park
Carefree
Cave Creek
Avondale
Procedures
The Scottsdale orthodontics professionals at Murphy Orthodontics are here to serve you. Our full service Goodyear and Scottsdale orthodontist offices offer: