Child and Adult Orthodontic Treatment
in a warm, caring, and efficient environment.
Welcome to Murphy Orthodontics! Dr. Chris Murphy and his experienced team of orthodontic professionals offer a comprehensive array of treatment options designed to help you successfully address your concerns and renew your smile with beautiful results. Our entire team strives to provide an atmosphere that makes patients of all ages feel at-home and comfortable. In addition to the many advanced orthodontic treatments available, Dr. Murphy and our team want you to be assured that part of our mission is to make our practice a warm and friendly environment. All of our treatments are customized to your specific and unique needs, and we are strongly committed to providing safe, effective treatment that can meet – and perhaps even surpass – your expectations.
From metal braces and clear braces to Invisalign® and orthognathic surgery, Murphy Orthodontics offers some of the most popular and state-of-the-art orthodontic treatments you can find, as well as some unique programs that help our practice truly stand out from others. We invite you to look through our website to learn more about our orthodontics team, the treatments we offer, and what Murphy Orthodontics can do for you. If you have questions, or if you would like to schedule a complimentary initial consultation, please don't hesitate to contact us today!
Dr. Chris Murphy
Board-Certified Orthodontist
Dr. Chris Murphy is certified by the American Board of Orthodontics and has been recognized multiple times as one of Phoenix Magazine's Top Orthodontists. Dr. Murphy is a Phoenix native and is proud to continue serving the community for which he has spent most of his life and career. He has been educated and trained at some of the most respected dental and orthodontics institutions in the nation, and his additional training at the prestigious Kois Center has earned him the title of "Recognized Specialist" from that organization.
Skilled and experienced with a wide range of orthodontic treatments and techniques for both adults and children, Dr. Murphy has helped many individuals improve the appearance of their teeth and the function of their bite with exceptional results. His philosophy of care is comprised of a commitment to not only provide high-quality procedures, but also to make the overall treatment experience as pleasant as possible for each of our patients.
Voted by His Peers as One of Phoenix's Top Orthodontists for Over 10 Years.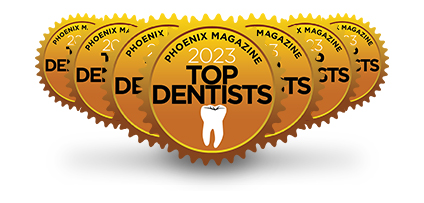 Invisalign®
Clear Aligners
Are you looking for a more discreet way to straighten your teeth and correct other common orthodontic concerns? Invisalign® may be the right option for your needs. This innovative orthodontic treatment does not require braces or wires to be placed on the teeth. In fact, Invisalign® utilizes clear, plastic aligners to progressively move the teeth into the desired position. The custom-designed aligners are so transparent that others will likely not even know you're undergoing orthodontic treatment unless you tell them!
Invisalign® can be an ideal treatment for both adults and adolescents who suffer from mild to moderate teeth misalignment, gaps and spaces, crowding, or bite irregularities. In addition to the discretion afforded by Invisalign®, the aligners offer convenience, as well: they can be removed while you eat, drink, and perform your daily brushing and flossing routines. Plus, for many patients, Invisalign® takes less time to produce optimal results when compared to other orthodontic techniques.
Our practice offers both Invisalign® and Invisalign® Teen, which are customized for each patient's concerns based on their individual needs and goals.
What Our Patients Are Saying
"Not only is Murphy orthodontics one of the nicest orthodontic offices I have ever been to but the staff is professional, kind and courteous as well. Dr Murphy took time to explain my entire treatment Plan and answer any questions that I had.They also did a great job working with my insurance to make sure that I had the best financial plan that I could. My appointments have been on time and the staff courteous and competent.I would definitely recommend Dr Murphy orthodontics to my friends and family."