The field of orthodontics has seen a number of innovations over the years, and one of the biggest advances to date is Invisalign®. This effective method of straightening your teeth involves no metal braces and reduces much of the hassle associated with traditional orthodontic techniques. With Invisalign®, you can achieve straighter teeth and a brighter smile with clear aligners that are virtually unnoticeable to others!
Please contact Dr. Chris Murphy to schedule a complimentary consultation for Invisalign® Clear Braces at Murphy Orthodontics today.
What Is Invisalign®?
Invisalign® is a system of removable, clear teeth aligners that can gradually pull your teeth into the desired position in a more comfortable treatment process. This orthodontic technique is designed to be effective for mild to moderate teeth misalignment, and can also help individuals with bite irregularities. Invisalign® is known for its ability to correct common orthodontic concerns in a discreet fashion, and without many of the functional and aesthetic drawbacks associated with other kinds of orthodontic treatment.
What Concerns Can Invisalign® Treat?
Invisalign® can treat a range of orthodontic concerns that can affect both the appearance and function of the teeth, including:
During your initial consultation, our orthodontist will examine your teeth and jaws and talk with you about your options. If Invisalign® is ideal for your needs, Dr. Murphy can develop a customized treatment plan designed to address your concerns with exceptional results.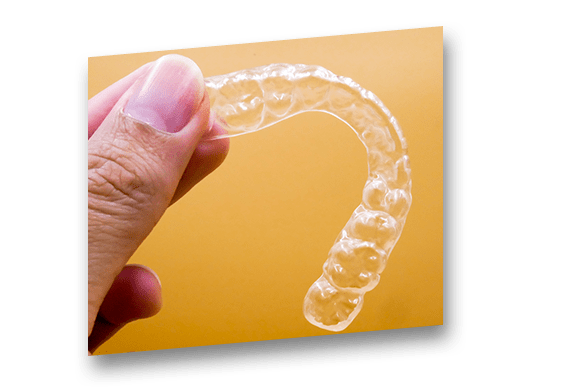 Invisalign® vs. Traditional Metal Braces
Many people would like to fix the malalignment and the"crookedness" of their teeth; however, they can often be put off by the discomfort of traditional braces, not to mention the less-than-pleasing aesthetic effects of metal and wires in the mouth. Invisalign® addresses these issues by utilizing clear, removable aligners to straighten the teeth. The aligners can be taken out for eating, drinking, and brushing and flossing. Plus, many Invisalign® patients often achieve optimal results in less time than it takes with metal braces. Simply put: Invisalign® is a wires-free, more comfortable, and less hassle-prone experience for a large number of patients who would like to straighten their teeth.
Invisalign® vs. Clear Braces
The primary difference between Invisalign® and clear braces is that Invisalign® aligners are removable, flexible appliances that do not involve brackets and wires, whereas clear braces are basically just traditional braces but made with a clear ceramic material to produce a less noticeable appearance. Both options can adjust misalignment by gradually shifting teeth into a more desired location; however, even clear braces will be somewhat visible on the teeth. By comparison, Invisalign® aligners are so thin and translucent that they are often virtually undetectable, even when viewing them at a close distance. With that in mind, Invisalign® is typically recommended for less severe cases of teeth or bite misalignment, while clear braces or other traditional braces can be an ideal option for more complex cases. Our team will be able to determine which treatment is best for you at your initial consultation.
Invisalign® Teen
In addition to Invisalign® for adults, Dr. Murphy offers Invisalign® Teen for teenagers and adolescents who would like to correct common orthodontic issues in a more discreet way. Invisalign Teen® uses the same treatment model offered by the standard Invisalign® system; however, this variation is specifically designed for the particular orthodontic needs of teenage and adolescent patients. Invisalign® Teen offers a welcome alternative to traditional braces for individuals in this age group, helping younger patients reduce concerns about their appearance in a time of their lives that is often filled with school pictures and social events.
How Much Does Invisalign® Cost?
The cost of Invisalign® often averages between $4,000 and $7,400; however, this is a very general average and it is important to understand that the final cost of this procedure will depend on a number of factors related to your unique needs and the customized treatment plan. The severity of your orthodontic concerns, the number of aligners necessary for the best results, and other components of the treatment process will be taken into account. Fortunately, Invisalign® is often less expensive than other types of orthodontic techniques, and our practice accepts a wide variety of payment methods, including dental financing options, to make the treatment as financially convenient as possible.
How Do I Choose the Best Invisalign® Doctor?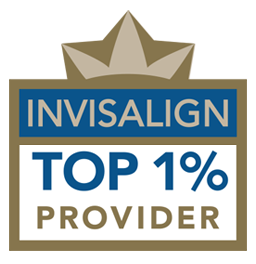 Selecting a skilled Invisalign® dentist is one of the most important steps in the treatment process. A board-certified orthodontist is often a preferable choice, since orthodontists have extensive training and experience with treatments designed to correct teeth and jaw misalignment, bite irregularities, and other orthodontic conditions. As you consider your options, it is useful to find out more about the doctor's training and experience with Invisalign® specifically. You should feel free to ask the doctor how many times he or she has performed the procedure and whether you can view before-and-after photos of their Invisalign® patients so you can get an idea of the potential results. Also, it's best to make sure that the practice is in a location that is convenient to you, and that it will remain there for some time since Invisalign® treatments will require several follow-up appointments. Finally, once you have narrowed your choices among Invisalign® doctors and have decided to schedule an in-person consultation, you can use this initial meeting to evaluate how confident you feel in their abilities and overall approach to care. It's important that you feel comfortable at the outset, and that you trust that they will be able to successfully meet your expectations.
Dr. Murphy has the distinction of being an Invisalign® Top 1% Provider. This recognition signifies that Dr. Murphy ranks as one of the most experienced Invisalign® orthodontists in North America. If you would like to learn more about Dr. Murphy's history and proficiency with this procedure, or if you would like more information on any other aspect of Invisalign® treatment, please contact our practice today. We are happy to answer any questions you may have, or assist you with scheduling a consultation.
Additional Frequently Asked Questions About Invisalign®
What is Invisalign® made of?
One of the major innovations of Invisalign® is the material that composes the aligners. It's called SmartTrack®, a unique type of clear plastic that is both thin and flexible. This allows for a comfortable (and discreet) fit over the teeth.
How noticeable is Invisalign®?
Since there are no visible wires or brackets required for Invisalign® treatment, the clear aligners should be almost completely undetectable on the teeth—even at close range. While the visual aspects of Invisalign® should be virtually unnoticeable, you will likely experience an audible lisp during the first few days of wearing the aligners. This is normal and should progressively fade as your mouth continues to adjust to the Invisalign® appliance.
What can I eat and drink with Invisalign®?
Most individuals can eat and drink whatever they wish while undergoing Invisalign® treatment! Since Invisalign® does not require brackets and wires, the need for food restrictions is virtually eliminated. That said, it's good to exercise a few precautions. For example: don't forget to remove the aligners before eating foods or drinking beverages that can stain (like berries, coffee, wine, or tea), and remember to brush your teeth before putting the aligners back on. If a toothbrush isn't handy, be sure to at least give your teeth a good rinse. It's also important to remove the Invisalign® appliances before drinking anything hot (even if it's just water) because high temperatures can warp their shape.
Do I need to wear a retainer after Invisalign®?
An orthodontic retainer will likely be required once the Invisalign® treatment is complete; however, after several months, most patients will only need to wear the retainer while sleeping. The use of a retainer following the primary orthodontic treatment is essential for maintaining the new and improved position of the teeth, so please be sure to wear your retainer for the length of time recommended by Dr. Murphy!
Can I chew gum with Invisalign®?
In general, chewing gum with the Invisalign® aligners still on the teeth is not a good idea. Gum and food may damage or warp the aligners while chewing, which is why we recommend removing the aligners at mealtimes and while chewing gum. It's also important to note that gum containing sugar may lead to a buildup of bacteria, and may create stains on the aligners, which are additional reasons to avoid chewing gum while wearing them.
Can I smoke with Invisalign®?
Chemicals in cigarettes can very quickly produce a stained or discolored appearance on the Invisalign® aligners, making them more noticeable on the teeth. It's best not to smoke while the aligners are in place (and needless to say, it's best not to smoke at all!)
How often will I need to visit Dr. Murphy for a check-in appointment?
For most adult patients, Invisalign® follow-up appointments will be scheduled about once every six weeks. These are typically very quick, routine check-ins just to monitor your progress and see if any slight adjustments need to be made. Dr. Murphy can talk more with you about the follow-up schedule once your treatment plan is in place.
I have braces now; can I switch to Invisalign®?
The answer to this question can be different among individuals, depending on certain factors. In many cases, a patient who is currently wearing braces to correct their orthodontic concerns and would like to switch to the Invisalign® treatment method is able to do that. For some patients, however, it may not be possible to switch to Invisalign® in the midst of braces treatment and still be able to effectively achieve one's initial goals. If you are considering making the switch from braces to Invisalign®, our orthodontist can perform an evaluation to determine if this can be done effectively. In some orthodontic treatment plans, the switch is already built in: the patient has braces placed for the first part of the treatment and then Invisalign® for the remainder of the treatment. Switches like those are often more ideal because they are strategically planned out in advance based on the patient's individual needs and desires; however, in all cases, the best treatment plan will ultimately depend on the severity of the orthodontic concerns and the treatment that offers the best chance of successfully achieving optimal results.
Does Invisalign® work faster than braces?
For many patients, Invisalign® is able to produce optimal results at a faster rate when compared with traditional braces. In fact, patients are often able to achieve their goals in about 15 months or less with Invisalign®, whereas braces may need to stay on for at least 18 months to two years. That said, the total treatment time for Invisalign® varies among patients depending on their ultimate goals and the severity of the orthodontic conditions being addressed. Additionally, it is important to note that braces are designed to treat more severe orthodontic concerns, which is one reason why braces typically take longer than Invisalign® to yield the best results.
What can Invisalign® not fix?
While Invisalign® is capable of correcting many common orthodontic concerns, there are some issues for which this treatment is simply not capable of fixing. For instance, Invisalign® may not be significantly effective on teeth that are in a severely rotated position in the mouth, and it cannot raise or lower teeth that appear excessively short or long. It is also important to remember that Invisalign® can be an ideal option for patients who have mild to moderate orthodontic issues, but more severe problems—such as excessively large spaces between the teeth or deeply pronounced bite irregularities—are often better-served by braces.
With all of this in mind, it is also important to remember that Invisalign® can fix numerous orthodontic concerns. The best way to determine whether Invisalign® or another orthodontic treatment is right for your needs is to have an orthodontic evaluation that can identify the nature and severity of your condition.
How does Invisalign® move teeth?
Invisalign® is designed to add a light amount of pressure on the teeth to move them into a new position in the mouth. In some ways, this is similar to how traditional braces move teeth; however, the methodology is very different. Braces use a system of wires and brackets fixed on the teeth to shift them into a new position, while Invisalign® uses flexible and removable plastic aligners to accomplish this goal. The aligners are changed out once every two weeks or so, and each aligner is designed with slight modifications from the previous one in order to progressively move the teeth at a gentle, yet effective rate. For the treatment to work, patients must be sure to wear their aligners in the proper order and as often as recommended to obtain optimal results.
What are the differences between Invisalign® and DIY / Direct-to-Consumer teeth-straightening systems?
DIY ("do-it-yourself") teeth-straightening systems that are marketed directly to consumers are essentially mail-order options that individuals can use at home. There is a major difference between these options and Invisalign®, and it's very important to understand the distinction. Some DIY teeth-straightening systems may not require patients to see an orthodontist or a dentist for an in-person evaluation, promising that the entire treatment process can be done on a remote basis. We believe that this puts patients at a particular disadvantage. Invisalign® involves a treatment program that is monitored by a professional orthodontist or dentist. We feel this oversight is vital to reducing risks and achieving the best possible treatment outcomes. Plus, in-person examinations and follow-ups can help Invisalign® providers precisely evaluate how well the treatment is working and make modifications, if necessary.
While some direct-to-consumer teeth straightening systems may offer options that cost a bit less than Invisalign®, remember that Invisalign® is often covered under dental insurance policies that offer coverage for orthodontic treatment. Plus, our practice accepts many convenient payment methods, and we work with financing companies that offer qualified applicants the ability to pay for their treatment in installments.
Our team believes that it is always better to meet in-person with a qualified orthodontist for any type of orthodontic treatment so that you can increase the chance of successful results and minimize potential risks.
Who invented Invisalign®?
Invisalign® was invented by Zia Chishti. A graduate student at Sanford, Chishti was an orthodontic patient who envisioned the concept of plastic, removable oral appliances to correct orthodontic concerns rather than prominently visible braces. He then worked with three other students to establish Align Technology, LTD in the late 1990s. Invisalign® obtained approval by the U.S. Food and Drug Administration in1998, and the treatment remains one of the most popular alternatives to traditional braces today!
If you have additional questions about Invisalign® or other advanced treatments available from Murphy Orthodontics, please contact our office today.