Teenagers who need orthodontic treatment are often most concerned with the effect that braces will have on their appearance. But with Invisalign® Teen, the days of "metal-mouth" and "brace-face" may be over. Our experienced orthodontist, Chris Murphy, DDS, can help your child correct a range of common concerns in a more discreet and comfortable way with Invisalign® Teen.
Please contact Dr. Chris Murphy for more information on Invisalign Teen®, or to schedule a complimentary consultation at our practice.
What Is Invisalign® Teen?
Invisalign® Teen is a version of Invisalign® clear tooth aligners that is specifically made for adolescents and teenagers. It uses the same technology as the adult Invisalign® treatment, but is designed for your teenager's unique orthodontic needs. These removable, clear aligners can be effective alternatives to braces, and even provide results in a shorter amount of time.
Invisalign Teen® vs. Braces
Invisalign Teen® involves no brackets, bands, or wires, often making teeth-straightening treatment a more comfortable process when compared to traditional braces. Invisalign Teen® also offers a number of benefits that have teenagers' lifestyles in mind, including:
Clear teeth aligners that are virtually invisible to others
Aligners that are removable for eating, drinking, and teeth cleaning
No metal brackets or wires
More comfortable teeth positioning
Less time spent in the orthodontist's chair
Less frequent follow-up office visits
What Age Is Appropriate for Invisalign® Teen?

The condition of the patient's teeth is typically a better indicator of candidacy for Invisalign® Teen rather than the age of the individual. In some cases, a child may qualify for Invisalign® Teen as early as 11 years-old. If all of the permanent teeth have now grown and there is no present tooth decay or other dental treatment that needs to be performed, your child may already qualify for Invisalign® Teen. Dr. Murphy can make a determination once he has met with your child for an orthodontic evaluation. If Invisalign® Teen is not the most ideal treatment for their needs, he can recommend alternative procedures that can address their concerns.
Invisalign Teen® Process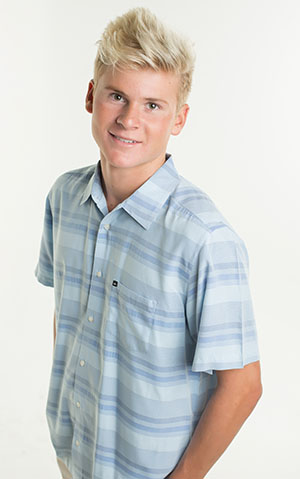 Invisalign Teen® involves a custom-fit series of trays that you can apply at home. Each tray of tooth aligners is modified from the one before, allowing your teeth to progressively move into the desired position. Once every two weeks, you will change out the aligners for the next in the series. After about 6 to 15 months, optimal results of Invisalign Teen® may already be apparent.
With Invisalign Teen®, you can achieve straighter teeth in less time than it often takes for traditional metal braces to accomplish. Plus, no one even has to know you are undergoing treatment!
How Much Does Invisalign® Teen Cost?
Murphy Orthodontics offers a complimentary consultation that includes a series of x-rays and photos. Dr. Murphy uses the x-rays and photos to determine a specific treatment plan for your teen. Once Dr. Murphy has designed your teen's unique treatment plan, one of our fabulous treatment coordinators will go over the fees associated with the treatment plan. There are many factors that go into each patient's customized treatment program. These factors include:
The severity of the orthodontic issues being addressed
The number of aligners that will be necessary for the best possible results
The projected duration of treatment
The cost of Invisalign® Teen is often comparable to that of traditional braces. In addition, many insurance policies that offer at least partial coverage for orthodontics typically cover Invisalign® as well. Murphy Orthodontics is proud to provide a comprehensive array of payment options that can make paying for Invisalign® Teen as convenient as possible. We accept a variety of payment methods, and we offer our own office-based, interest-free financing program. Plus, we work with reputable orthodontic financing agencies that can provide qualified applicants with a number of options that allow them to pay for the procedure over time.
If you have questions about Invisalign Teen®, or if you would like to schedule a consultation with Dr. Murphy to talk more about this procedure, please contact us today.