In less time and greater comfort, you can achieve a straighter smile with Pitts 21™ System braces. This unique method is "self-ligating" and uses specialized clips to hold the archwire into place. Over time, teeth naturally move as the shape-memory wire applies constant, gentle pressure to straighten out teeth. Most patients experience less pain or discomfort than the Pitts 21™ System's conventional braces counterpart since the technique relies on light, more biologically sensible forces. Unlike conventional braces, this system holds the archwire without the use of any elastic or metal ties. As a result, manual tightening by the orthodontist is usually not necessary. Overall, choosing Pitts 21™ braces can shorten treatment time and reduce the number of visits to the orthodontist. Individuals looking for an efficient, convenient, and more discreet way to straighten their teeth may find the Pitts 21™ System to be the ideal treatment option. Our board-certified orthodontist, Chris Murphy, DDS, can evaluate your orthodontic concerns and talk with you about whether Pitts 21™ self-ligating braces are right for your needs and aesthetic goals.
What Are Pitts 21™ Braces?

Pitts 21™ self-ligating braces are an orthodontic treatment option designed to improve teeth alignment and/or bite concerns such as an overbite, underbite, or crossbite. The Pitts 21™ system is different from traditional metal braces in several ways. Pitts 21™ braces use a distinct wire-threading technique which causes less friction and minimizes the need for elastic bands. The brackets are also smaller and are placed higher on the teeth, closer to the gumline, which can create a more aesthetically pleasing appearance. In addition, Pitts 21™ self-ligating braces can reposition the teeth at a faster pace while using less force, often making the treatment process more comfortable.
What Are the Benefits of Pitts 21™ Braces?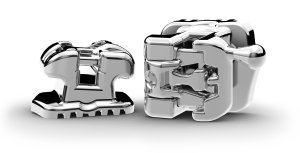 Pitts 21™ self-ligating braces offer a number of aesthetic and functional benefits for both adult and adolescent patients, including:
Faster correction of common orthodontic concerns such as spaces between the teeth, crowding, general misalignment, and bite irregularities
Less pressure is necessary to move the teeth
The brackets are designed to have a lower profile on the teeth and smoother, rounded corners, which can make them less apt to create irritation in the lips and soft tissues of the mouth
Patients typically require fewer follow-up appointments for maintenance
Easier to brush, floss, and remove food particles from the braces
Depending on each patient's unique needs, additional oral appliances such as palate expanders or headgear are often not necessary
If you are concerned about your Pitts 21™ braces being noticeable, our orthodontist offers clear brackets for patients who would like to reduce their visual impact.
Pitts 21™ Braces vs. Traditional Braces
The main characteristic that sets Pitts 21™ braces apart from traditional braces is that they are self-ligating, which means that the system tightens on its own to allow the teeth to move quickly and freely. Treatment is considered to be faster with the Pitts 21™ System since it requires lighter, gentler forces to guide teeth into an ideal placement without having to make several trips to the orthodontist's office. Conventional braces are designed with elastic or metal bands that cause friction in the teeth. This can lead to some level of discomfort. With Pitts 21™ braces, these concerns can be eliminated since it uses specialized clips instead of plastic or metal ties. In addition, elastic bands for traditional braces are more prone to fostering bacteria and plaque, which can have a negative effect on a patient's dental hygiene. Pitts 21™ braces are considered to be easier to clean and promote better oral health.
How Do Pitts 21™ Braces Work?
Similar to conventional braces, an orthodontist appointment is the first step in getting Pitts 21™ braces. At your initial appointment, Dr. Murphy will create a mold of your teeth and customize a treatment plan from there. Pitts 21™ braces are designed with a sliding mechanism that attaches to the archwires. The system is described as "self-ligating" because the memory wires will gradually shift to the brackets on their own to straighten out teeth. For this reason, patients typically make fewer trips to the orthodontist since no manual tightening is required. This is why the Pitts 21™ System is considered to be a more efficient and convenient treatment option for patients. Unlike traditional braces, no elastic or metal bands are required. You do not have to worry about bands snapping or food particles getting stuck between the braces.
How Much Do Pitts 21™ Braces Cost?
The overall expense of Pitts 21™ braces can vary depending on your unique treatment plan, the complexity of your orthodontic needs, and the estimated length of treatment. We recommend consulting your insurance provider to see if they can cover any portion of the cost for treatment. Murphy Orthodontics partners with reputable orthodontic financing companies that offer flexible payment plans for qualified applicants. In addition, our practice accepts cash, check, and major credit cards. We want to help make Pitts 21™ braces as affordable as possible. If you have any questions or concerns about your payment options, feel free to contact our office and one of our staff members will be happy to assist you.
During your initial consultation with Dr. Murphy, he will examine your teeth and talk with you about your treatment goals. If Pitts 21™ braces are an ideal option, he will develop a customized treatment plan and discuss the next steps. If you are not a candidate for Pitts 21™ braces, Dr. Murphy can recommend a number of other advanced types of braces that may be more suited to your needs.
For more information on Pitts 21™ braces, or to schedule a consultation, please contact Murphy Orthodontics today.