Orthodontist Chris Murphy, DDS
Dr. Chris Murphy is a board-certified orthodontist who has devoted his career to helping individuals of all ages successfully correct common orthodontic concerns that can affect both the function of their teeth and the appearance of their smile. Offering advanced orthodontic treatment for both adults and children, Dr. Murphy is committed to providing you with the absolute best in care.
Meet Dr. Murphy
Dr. Chris Murphy was born and raised in the Phoenix area, where he attended Brophy College Preparatory. He earned a Bachelor of Science degree in Mechanical Engineering with a Biomedical specialization, graduating Cum Laude from Southern Methodist University. Dr. Murphy then earned his Doctor of Dental Surgery degree with Honors at the University of the Pacific Dental School and his Master's degree in Orthodontics at the University of Texas Health Science Center in Houston.
Dr. Murphy is certified by the American Board of Orthodontics and has been voted by his peers as one of Phoenix's Top Orthodontists in Phoenix Magazine. Published in The Angle Orthodontist, Dr. Murphy's article is required reading for any orthodontist seeking Board certification. Dr. Murphy has received additional training to achieve the title of Recognized Specialist at the Kois Center. He is a member of several professional organizations including:
The American Association of Orthodontists
The American Dental Association
The Pacific Coast Society of Orthodontists
The Arizona Orthodontic Study Group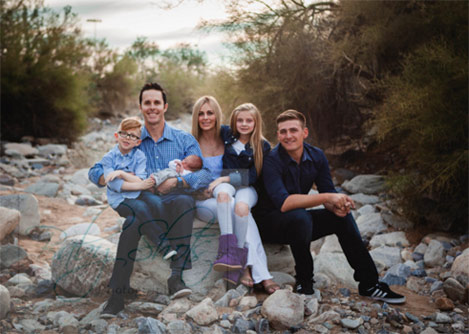 Dr. Murphy is also a Delegate to the Arizona Dental Association House of Delegates.


In his spare time, Dr. Murphy values being with his family and friends, as well as serving the community. His hobbies include various snow and water sports, golf, auto racing, and spectator sports.
What is an Orthodontist?
An orthodontist specializes in the diagnosis, correction, and prevention of irregularities affecting jaw and teeth alignment. It's important to understand the basic differences between a licensed orthodontist and a dentist. While many family dentists and cosmetic dentists offer orthodontic treatment options, this does not necessarily mean that they are licensed orthodontic specialists. An orthodontist is a dentist who has pursued additional training and education in the field of orthodontics. Licensed orthodontists are specialists who often focus their entire practice on treatments designed to help patients address orthodontic problems such as teeth misalignment, bite issues, and jaw concerns.
Why Choose a Board-Certified Orthodontist?
Certification by the American Board of Orthodontics is a strong indication that the doctor you are considering has an extensive amount of training and experience in the specialty field of orthodontics, as well as a commitment to high-quality care. To become certified by the ABO, the orthodontist is required to undergo rigorous testing and make individual case presentations in front of a select panel of orthodontists for review. Board-certified orthodontists such as Dr. Murphy must also renew their certification every 10 years to ensure they have maintained their commitment to providing the best standards of care for patients who need orthodontic treatment.
How to Select the Best Orthodontist for You or Your Child
If you are considering orthodontic treatment for you or your child, there are some important criteria to look for as you search for a qualified orthodontist. Here are a few tips on how you can find the best orthodontist for your needs:
Review the Orthodontist's Background, Experience, and Credentials

It is important to familiarize yourself with your prospective orthodontist's professional history in order to determine their experience with orthodontic procedures. You can often find doctor biographies on the practice's website. Educational history, the number of years in practice, board-certification, memberships and affiliations, and awards/recognitions can often provide an informative overview of the orthodontist's level of skill and experience.

Take a Look at Before-and-After Photos

An orthodontic treatment photo gallery featuring the doctor's own patients allows you to see the results of their abilities. Before-and-after galleries may also include images of patients who have undergone the very treatment you are considering, which can be helpful in terms of visualizing the potential outcome for your own procedure.

Read Patient Reviews and Testimonials

By reading what other patients at the practice have to say about their experience, you can typically get a general idea of the orthodontist's overall approach to care and what you might expect. Patient testimonials and reviews of the orthodontist are often readily available on the practice's website or facebook page, as well as third-party review sites.

Be Sure the Location of the Practice is Convenient

Orthodontic treatments often require ongoing care and follow-up appointments for some time after the initial procedure. This makes it important for the practice to be in a location that is convenient for you. It's a good idea to ask the doctor if they intend on remaining in the same place for the foreseeable future.

Meet with the Orthodontist and Evaluate Your Rapport

Last, but certainly not least: Schedule a consultation with the orthodontist you are considering to talk with them about your needs and goals. At this meeting, you can determine whether you feel comfortable with the doctor's communication style and confident in their abilities. A good orthodontist should be honest and thorough, answering all of your questions and detailing all aspects of the treatment options that may be ideal for you. You should never feel like you are being rushed through the process. Remember, you and your orthodontist are about to embark on what is likely to be a long-term treatment process, so it's important to evaluate your rapport at the outset.
You can learn more about what to know before choosing your orthodontist here. Dr. Murphy prides himself on offering patients the best possible treatment experience and attentive, compassionate care. If you have questions about his background and credentials, or if you would like to schedule an in-person consultation, please don't hesitate to contact Murphy Orthodontics today.