Dr. Chris Murphy is a board-certified orthodontist who has devoted his career to helping individuals of all ages successfully correct common orthodontic concerns that can affect both the function of their teeth and the appearance of their smile. Offering advanced orthodontic treatment for both adults and children, Dr. Murphy is committed to providing you with the absolute best in care.
Meet Dr. Murphy
Dr. Chris Murphy was born and raised in the Phoenix area, where he attended Brophy College Preparatory. He earned a Bachelor of Science degree in Mechanical Engineering with a Biomedical specialization, graduating Cum Laude from Southern Methodist University. Dr. Murphy then earned his Doctor of Dental Surgery degree with Honors at the University of the Pacific Dental School and his Master's degree in Orthodontics at the University of Texas Health Science Center in Houston.
Dr. Murphy is certified by the American Board of Orthodontics and has been voted by his peers as one of Phoenix's Top Orthodontists in Phoenix Magazine. Published in The Angle Orthodontist, Dr. Murphy's article is required reading for any orthodontist seeking Board certification. Dr. Murphy has received additional training to achieve the title of Recognized Specialist at the Kois Center. He is a member of several professional organizations including:
Kois Recognized Specialist – Kois Center
The American Association of Orthodontists
The American Board of Orthodontics – Board Certified
The American Dental Association
The Arizona Dental Association
The Arizona Orthodontic Study Group
The Pacific Coast Society of Orthodontists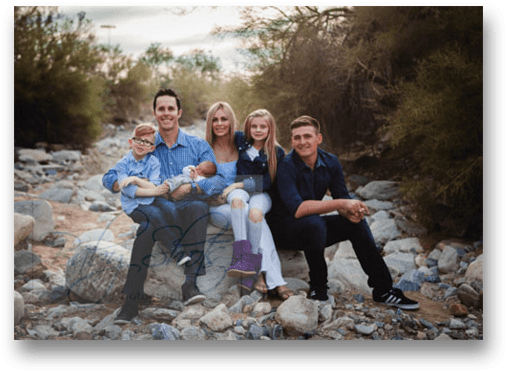 In his spare time, Dr. Murphy values being with his family and friends, as well as serving the community. His hobbies include various snow and water sports, golf, auto racing, and spectator sports.
What is an Orthodontist?
An orthodontist specializes in the diagnosis, correction, and prevention of irregularities affecting jaw and teeth alignment. It's important to understand the basic differences between a licensed orthodontist and a dentist. While many family dentists and cosmetic dentists offer orthodontic treatment options, this does not necessarily mean that they are licensed orthodontic specialists. An orthodontist is a dentist who has pursued additional training and education in the field of orthodontics, often within a certified orthodontic residency program. This extra training provides a specialty focus on the improvement of teeth and jaw alignment. Dr. Chris Murphy is certified by the American Board of Orthodontics and is also a member of the American Association of Orthodontists. These are two indications that an orthodontist meets strict criteria and have proven experience in the specialty field of orthodontics. Licensed orthodontists are specialists who often focus their entire practice on treatments designed to help patients address orthodontic problems such as teeth misalignment, bite issues, and jaw concerns.
While many areas in the U.S. have laws designed to prevent patients from being mislead by dentists claiming to be "specialists" in certain areas if they have not fulfilled the necessary education requirements, it doesn't guarantee that some individuals won't still claim proficiency with orthodontics. This makes it very important that patients looking for an experienced orthodontic specialist understand the differences between a dentist and an orthodontist.
Why Choose a Board-Certified Orthodontist?
Certification by the American Board of Orthodontics is a strong indication that the doctor you are considering has an extensive amount of training and experience in the specialty field of orthodontics, as well as a commitment to high-quality care. To become certified by the ABO, the orthodontist is required to undergo rigorous testing and make individual case presentations in front of a select panel of orthodontists for review. Board-certified orthodontists such as Dr. Murphy must also renew their certification every 10 years to ensure they have maintained their commitment to providing the best standards of care for patients who need orthodontic treatment.