Refer A Friend
Share Your Smile
2018 Referral Program
Please join us in sharing the gift of a beautiful smile by referring your friends and family to Murphy Orthodontics. As a way of saying thank you, we will enter you in our biannual drawing for a chance to win your choice of an exciting prize!  Our next  drawing will be held July 31, 2018.
The winner will receive a choice of a $500 Gift Card or a
Top Golf Adventure Package!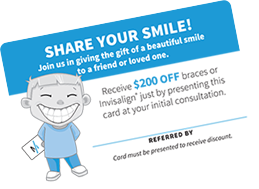 For Them… By giving a Share Your Smile card to a friend or family member they will receive $200 off their treatment fee just for presenting the card at their initial consultation appointment!
For You… When they come in to see us and show us the referral card you gave them, your name will be entered into our Share Your Smile prize raffle.
Once they start treatment, you have a choice of 10 entries into our raffle drawing or a $200 credit to your account. In order for you to receive credit the referral card must be presented at the consultation appointment, and your name must be filled in on the card as the referring patient.
If you need Share Your Smile cards just Click Here to print as many as you need!
We appreciate your trusted referrals. They are the heart of our practice and the highest compliment we can receive!
Our most recent Share Your Smile Winner…
Congratulations, Reese!
Enjoy spending your $500 Gift Card!