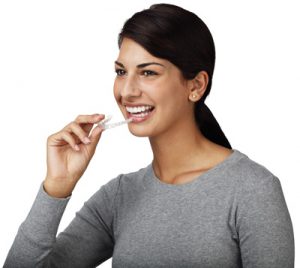 Advances in orthodontic treatment techniques have given individuals more choices than ever when it comes to straightening their teeth and renewing their smile. With Invisalign®, both adults and teenagers can avoid the aesthetic pitfalls of traditional braces and experience a more comfortable treatment. While there are some distinctions between the adult Invisalign® and the Invisalign® Teen techniques, both systems are designed to offer patients a much more discreet alternative to other orthodontic treatments.
The clear Invisalign® teeth aligners are particularly beneficial for patients who have been reticent about correcting orthodontic problems such as teeth crowding, gaps and spaces, and bite issues because of the noticeable brackets and wires that characterize treatment with traditional braces. Invisalign® involves a series of clear teeth aligners that can be removed for eating, drinking, and daily oral hygiene routines. With that in mind, it is very important that patients actually wear the aligners throughout most of the day – at least 22 hours per day is typically recommended. For some teens and adolescents, it can be difficult to maintain this regimen. That's where the main difference between Invisalign® and Invisalign® Teen comes in: Invisalign® Teen has indicator buttons on each tray that help the team here at Murphy Orthodontics track how much time the Invisalign® trays are on the teeth. This is very important in order to ensure the trays are being worn the prescribed amount of time.
It's natural for teens to get distracted and potentially forget to place the aligners back on the teeth after they've taken them out. With Invisalign® Teen's monitoring capabilities, we are better able to advise our teenage patients on maintaining good habits with their aligners. After all, patient adherence to the Invisalign® treatment regimen is critical to achieving successful results. By making sure that the aligners are being worn most of the day, we can go a long way toward meeting your goals and renewing your smile!
— Dr. Chris Murphy
Please contact Murphy Orthodontics to find out if you are a candidate for Invisalign®. Our team can answer your questions or help you schedule a consultation with Dr. Murphy.
Previous Post
Next Post