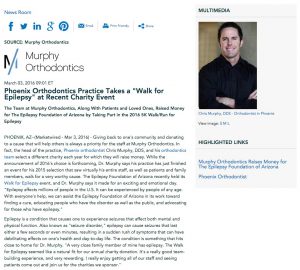 The team at Murphy Orthodontics, along with patients and loved ones, raised money for The Epilepsy Foundation of Arizona by taking part in the 2016 5K Walk/Run for Epilepsy.
Phoenix, AZ – Giving back to one's community and donating to a cause that will help others is always a priority for the staff at Murphy Orthodontics. In fact, the head of the practice, Phoenix orthodontist Chris Murphy, DDS, and his orthodontics team select a different charity each year for which they will raise money. While the announcement of 2016's choice is forthcoming, Dr. Murphy says his practice has just finished an event for his 2015 selection that saw virtually his entire staff, as well as patients and family members, walk for a very worthy cause. The Epilepsy Foundation of Arizona recently held its Walk for Epilepsy event, and Dr. Murphy says it made for an exciting and emotional day. "Epilepsy affects millions of people in the U.S. It can be experienced by people of any age. With everyone's help, we can assist the Epilepsy Foundation of Arizona in its work toward finding a cure, educating people who have the disorder as well as the public, and advocating for those who have epilepsy."
Epilepsy is a condition that causes one to experience seizures that affect both mental and physical function. Also known as "seizure disorder," epilepsy can cause seizures that last either a few seconds or even minutes, resulting in a sudden rush of symptoms that can have debilitating effects on one's health and day-to-day life. The condition is something that hits close to home for Dr. Murphy. "A very close family member of mine has epilepsy. The Walk for Epilepsy seemed like a natural fit for our annual charity donation. It's a really good team-building experience, and very rewarding. I really enjoy getting all of our staff and seeing patients come out and join us for the charities we sponsor."
It was indeed a team event. Dr. Murphy invited staff members, patients, loved ones, and virtually anyone who wanted to take part. The practice paid for all entry fees, raised awareness through social media, and even encouraged some of its younger patients to donate tokens they earned from Murphy Money, a program at Murphy Orthodontics that rewards children for taking good care of their orthodontic appliances, staying on top of their oral hygiene routines, and other accomplishments. Donated tokens were assigned a monetary value and then given to The Epilepsy Foundation of Arizona along with the practice's full donation.
Ultimately, Dr. Murphy says he is very proud of his team's participation, and the beautiful weather during the 5K walk added to the spirit of collaboration and the sense that they were all working together in support of a very important cause. "I love that every year we take on a new cause as a team. We are very proud to be associated with the remarkable Epilepsy Foundation of Arizona."
About Chris Murphy, DDS
Dr. Chris Murphy is a Diplomate of the American Board of Orthodontics and the head of Murphy Orthodontics in the Phoenix, Scottsdale, and Goodyear area. He is a member of the American Dental Association, the American Association of Orthodontists, the Arizona Orthodontic Study Group, and the Pacific Coast Society of Orthodontists. Dr. Murphy is also a Recognized Specialist at the Kois Center. His practice offers a comprehensive range of treatments for adults and children, including traditional braces, HARMONY System lingual braces, Invisalign®, and other advanced options designed to correct mild to severe orthodontic issues. Dr. Murphy has been recognized as a Top Orthodontist in Phoenix Magazine. He is available for interview upon request.
For more information about Dr. Murphy and his practice, please visit murphyorthodontics.com and facebook.com/MurphyOrthodontics.
Contact:
Murphy Orthodontics
Phoenix/Scottsdale Office
5355 East High Street
Suite 105
Phoenix, AZ 85054
(602) 482-0022
Goodyear Office
13210 W. Van Buren Street
Suite 106
Goodyear, AZ 85338
(623) 932-9212
Rosemont Media
(858) 200-0044
www.rosemontmedia.com
Previous Post
Next Post