Our Team
We are especially interested in making all our patients feel right at home! We put your needs first to achieve efficient and comprehensive treatment. Our trained and highly skilled staff has many years of combined experience in orthodontics. We stay abreast of the very latest in technology and advances by regularly attending continuing education courses and seminars including those offered through OSHA.
Cari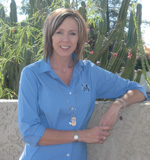 Cari, our Treatment Coordinator and Office Manager, has 24 years of experience in orthodontics which helps her keep our office running smoothly. She loves what she does and especially values the relationships built with our patients and their families. Cari says she's "pretty much a native (Arizonan) with a hint of California built in." In her spare time she enjoys spending time with her family at the race track, motorcycle rides with her husband, Wally, and many adventures with their daughter, Karlie. Her favorite hobbies include activities at the beach, lake, or anything water and sand! Oh, yes. . . and football!!
Brittney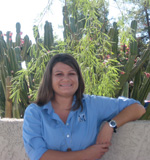 Brittney, Financial Coordinator, has worked in dental field 7 years. A favorite aspect of her job is being able to be a positive part of  someone's day. She was born in Billings, Montana but has lived throughout the Southwest and has resided in Arizona since 1995. Brittney is a major sports fan! She loves sharing season tickets to the Cardinals with her family, cheering on the San Antonio Spurs, and rooting for ASU (her alma mater!) She keeps busy with her 2 rescue dogs (Buddy the lab and Lucy the boxer) and loves helping any cause relating to animals.
Lindsay
Lindsay, Marketing and Scheduling Coordinator,  helps our front desk run smoothly and coordinates our scheduling and marketing. She is an Arizona native and has worked in ortho for eight years. Lindsay and Tim enjoy their family time and keep busy with their son and daughter! Lindsay grew up dancing and now gets to enjoy watching her daughter take dance classes. In addition Lindsay loves anything outdoors… hiking, walks with the kids, and trips to the park. The best part of her job is seeing patients have a great experience at our office and leaving with a smile!
Kristin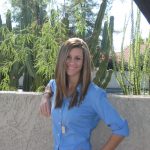 Kristin, Records Technician, always wears a big smile and has enjoyed being in ortho for 5 years.  She was born and raised in Utah.  When she's not busy working she loves to spend time by the pool with her family and friends.  Topping her list of "favorites" you'll find her little maltipoo puppy, Cy, along with her weakness for sprinkle cupcakes.  Kristin is also a big fan of baseball and especially the Dodgers!
Lindsey
Lindsay is new to Arizona although not new to the dental field.  She especially loves seeing the difference in patients before and after their treatment.  She was born in California and grew up in Colorado and Nebraska.  Outside of work her time is filled as a part time esthetician, and she also hopes to volunteer at a dog rescue shelter.  Her hobbies include travel, concerts, swimming, entertaining and decorating.  (Photo coming)
Brittny
Brittny, Clinical Technician, has over 10 years of ortho experience. She was born in Mission Viejo, CA and moved to Arizona when she was 10. Her hobbies include traveling, backpacking, hiking and snowboarding.  Brittny is currently going to school to become a registered nurse.  She and her fiancé, Zach, will be married August 2017 in Jackson Hole, WY.  Her rescued pets include River (dog) and Rose (cat).  Brittny's favorite part about working at Murphy Orthodontics is her fellow workers because they're like family.
Fallon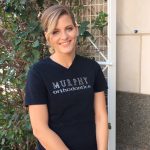 Fallon, Clinical Technician, has worked in orthodontics over a year.  She is from Wisconsin and moved to Arizona in 2013 for dental school.  After living in Wisconsin most of her life she misses those four seasons!  Fallon has 2 sons who are  very close in age  – or "Irish twins" as she calls them.  In fact Fallon and her sister have that same title too. Fallon's favorite hobbies are hiking, swimming and spending time with her boys.
Ashley
Ashley is a native to Arizona, yet somehow part of her heart resides with the Green Bay Packers!  She is not new to the dental field and has close to 2 years in orthodontics and the previous 5 years in pediatric dentistry.  She especially loves seeing the smile on a patient's face when they get braces off and see their smile for the first time after their treatment.  Priceless!  Outside of work she spends her time with her German Shepherd, Baylee, and enjoys family BBQs and football Sundays.  Her hobbies include crafting, being outdoors, hiking and snowboarding.   (Photo coming)