Home/Blog / The New iTero® Element™ Digital Scanner – Making Impressions More Comfortable and Convenient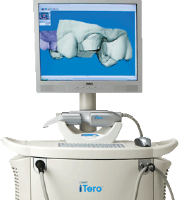 Murphy Orthodontics is always looking for ways to provide you with the fastest, most comfortable, and most effective treatment. With that in mind, we are very excited to announce that our practice is one of the first in the area to have the state-of-the-art iTero® Element™ Intraoral Scanner. This technology makes it possible to create digital impressions for Invisalign® and other orthodontic procedures in just a couple of minutes, without the need for messy putties or the discomfort associated with other impression techniques.
Old vs. New
Impressions are necessary for us to know the exact position of your teeth as they currently appear in order to make a precise treatment plan for Invisalign® teeth aligners. Traditionally, an impression for Invisalign® had to be taken using a very high-quality special material that is different than the other types of impressions that we take. Unfortunately, those impressions could take about 10 to 20 minutes to complete, and some patients had a problem with gagging or other issues that made the process very uncomfortable. The iTero® Element™ scanner resolves many of those problems.
The new scanner is simply held over your teeth, where it will quickly and comfortable scan all sides to create a 3-D image that will be digitally saved and sent to an Invisalign® lab for the creation of your aligners. The iTero® digital scanning process only takes about 2 ½ minutes. This scanner makes the impression procedure extraordinarily fast, and we're going to be able to use it in a lot of other ways in addition to Invisalign® treatments.
Predicting Results
The iTero® Element™ also has a built-in simulator – we scan the teeth and create a simulation of what your teeth may look like in a straighter, corrected position. Basically, the scan can promptly show you how orthodontic treatment can improve your smile, giving you an idea of a procedure's potential before you even have the treatment! If you are considering Invisalign® or traditional braces but are unsure as to how treatment may benefit you, we can even do a quick scan of the teeth while you're waiting for your next scheduled appointment so you can see what the results may look like.
Retainers
The advanced The iTero® Element™ digital impression system can also be advantageous for patients who need retainers. In the past, we would typically take an impression and then create the retainer for the patient. That impression would end up getting damaged during the process of making the retainer, which means it would be useful only one time. This could be problematic because many people lose their retainers at some point and then ask if we still have the initial impression to create a new one. However, with the iTero® scanner, the first impression is saved in a digital file, so we always have an image of the patient's teeth. In many cases, that image can be utilized to create a new retainer, without the need to take a new impression.
Ultimately, this new technology makes the all-important impression process quick, convenient, precise, and comfortable. With the iTero® Element™ digital scanner, your first "impression" will be the best one!
Contact Murphy Orthodontics
If you would like more information on the treatments we offer here at Murphy Orthodontics, or if you would like to schedule an initial, complimentary consultation, please contact us today.
Previous Post
Next Post