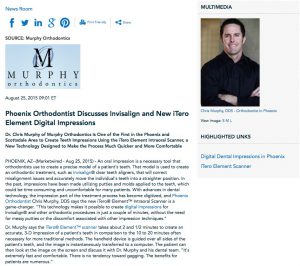 Dr. Chris Murphy of Murphy Orthodontics is one of the first in the Phoenix and Scottsdale area to create teeth impressions using the iTero® Element™ Intraoral Scanner, a new technology designed to make the process much quicker and more comfortable.
Phoenix, AZ – An oral impression is a necessary tool that orthodontists use to create a precise model of a patient's teeth. That model is used to create an orthodontic treatment, such as Invisalign® clear teeth aligners, that will correct misalignment issues and accurately move the individual's teeth into a straighter position. In the past, impressions have been made utilizing putties and molds applied to the teeth, which could be time-consuming and uncomfortable for many patients. With advances in dental technology, the impression part of the treatment process has become digitized, and Phoenix Orthodontist Chris Murphy, DDS says the new iTero® Element™ Intraoral Scanner is a game-changer. "This technology makes it possible to create digital impressions for Invisalign® and other orthodontic procedures in just a couple of minutes, without the need for messy putties or the discomfort associated with other impression techniques."
Dr. Murphy says the iTero® Element™ scanner takes about 2 and ½ minutes to create an accurate, 3-D impression of a patient's teeth in comparison to the 10 to 20 minutes often necessary for more traditional methods. The handheld device is guided over all sides of the patient's teeth, and the image is instantaneously transferred to a computer. The patient can then look at the image on the screen and discuss it with Dr. Murphy and his dental team. "It's extremely fast and comfortable. There is no tendency toward gagging. The benefits for patients are numerous."
Once the digitized impression is created, it can then be sent wirelessly to a laboratory. Dr. Murphy notes that this makes the process of making the customized aligners (or other orthodontic appliance) faster and more convenient. In addition, Dr. Murphy says the iTero® Element™ scanner has yet another major benefit for patients: "It has a built-in simulator – we scan the teeth and create a simulation of what your teeth may look like in a straighter, corrected position." In other words, the technology can give you an idea of the potential results from treatment before you even have the procedure. Dr. Murphy says this can be very helpful for individuals who are considering orthodontic treatment but are unsure exactly how it can benefit their unique needs and goals.
Overall, Dr. Murphy says the iTero® Element™ Intraoral Scanner makes it possible to provide patients with an oral impression process that is more precise, convenient, and comfortable. "It's such a fast procedure and we're going to be able to use it in a lot of ways. It's a huge leap beyond some of the other scanners out there. We are very excited about it!"
About Chris Murphy, DDS
A board-certified orthodontist, Dr. Chris Murphy is a native of Phoenix, Arizona. After graduating Cum Laude from Southern Methodist University, Dr. Murphy received his Doctor of Dental Surgery degree with Honors from the University of the Pacific Dental School. He also earned a Master's degree in Orthodontics from the University of Texas Health Science Center in Houston. Dr. Murphy is a member of the American Dental Association, the American Association of Orthodontists, the Arizona Orthodontic Study Group, and other organizations. He has been recognized as a Top Orthodontist in Phoenix Magazine. Dr. Murphy is available for interview upon request.
For more information, visit murphyorthodontics.com and facebook.com/MurphyOrthodontics.
Contact:
Murphy Orthodontics
Phoenix/Scottsdale Office
5355 East High Street
Suite 105
Phoenix, AZ 85054
(602) 482-0022
Goodyear Office
13210 W. Van Buren Street
Suite 106
Goodyear, AZ 85338
(623) 932-9212
Rosemont Media
(858) 200-0044
www.rosemontmedia.com
Previous Post
Next Post