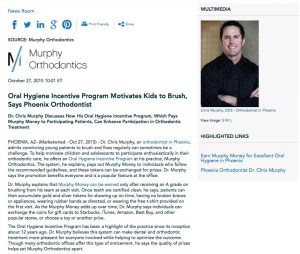 Dr. Chris Murphy discusses how his Oral Hygiene Incentive Program, which pays Murphy Money to participating patients, can enhance participation in orthodontic treatment.
Phoenix, AZ — Dr. Chris Murphy, an orthodontist in Phoenix, admits convincing young patients to brush and floss regularly can sometimes be a challenge. To help motivate children and adolescents to participate enthusiastically in their orthodontic care, he offers an Oral Hygiene Incentive Program at his practice, Murphy Orthodontics. The system, he explains, pays out Murphy Money to individuals who follow the recommended guidelines, and these tokens can be exchanged for prizes. Dr. Murphy says the promotion benefits everyone and is a popular feature at the office.
Dr. Murphy explains that Murphy Money can be earned only after receiving an A grade on brushing from his team at each visit. Once teeth are certified clean, he says, patients can then accumulate gold and silver tokens for showing up on time, having no broken braces or appliances, wearing rubber bands as directed, or wearing the free t-shirt provided on the first visit. As the Murphy Money adds up over time, Dr. Murphy says individuals can exchange the coins for gift cards to Starbucks, iTunes, Amazon, Best Buy, and other popular stores, or choose a toy or another prize.
The Oral Hygiene Incentive Program has been a highlight of the practice since its inception about 12 years ago. Dr. Murphy believes this system can make dental and orthodontic treatment more pleasant for everyone involved while helping to optimize the outcome. Though many orthodontic offices offer this type of enticement, he says the quality of prizes helps set Murphy Orthodontics apart.
About Chris Murphy, DDS
Dr. Chris Murphy is the founder of Murphy Orthodontics, located in the Phoenix and Goodyear, Arizona area. He is a Diplomate of the American Board of Orthodontics and a Recognized Specialist at the Kois Center. He graduated Cum Laude from Southern Methodist University, and he earned his Doctor of Dental Surgery degree with Honors at the University of the Pacific Dental School. He completed additional training in orthodontics at the University of Texas Health Science Center in Houston. Dr. Murphy is an active member of several prestigious dental associations, including the American Association of Orthodontists, the Pacific Coast Society of Orthodontists, and the American Dental Association. He is available for interview upon request.
For more information about Dr. Murphy and his practice, please visit murphyorthodontics.com and facebook.com/MurphyOrthodontics.
Contact:
Murphy Orthodontics
Phoenix/Scottsdale Office
5355 East High Street
Suite 105
Phoenix, AZ 85054
(602) 482-0022
Goodyear Office
13210 W. Van Buren Street
Suite 106
Goodyear, AZ 85338
(623) 932-9212
Rosemont Media
(858) 200-0044
www.rosemontmedia.com
Previous Post
Next Post