Home/Blog / New Mobile Website Enhances Care for Patients on the Go at Phoenix Orthodontics Practice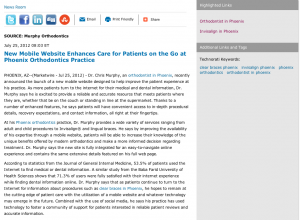 Phoenix, AZ — Dr. Chris Murphy, an orthodontist in Phoenix, recently announced the launch of a new mobile website designed to help improve the patient experience at his practice. As more patients turn to the internet for their medical and dental information, Dr. Murphy says he is excited to provide a reliable and accurate resource that meets patients where they are, whether that be on the couch or standing in line at the supermarket. Thanks to a number of enhanced features, he says patients will have convenient access to in-depth procedural details, recovery expectations, and contact information, all right at their fingertips.
At his Phoenix orthodontics practice, Dr. Murphy provides a wide variety of services ranging from adult and child procedures to Invisalign® and lingual braces. He says by improving the availability of his expertise through a mobile website, patients will be able to increase their knowledge of the unique benefits offered by modern orthodontics and make a more informed decision regarding treatment. Dr. Murphy says the new site is fully integrated for an easy-to-navigate online experience and contains the same extensive details featured on his full web page.
According to statistics from the Journal of General Internal Medicine, 53.5% of patients used the Internet to find medical or dental information. A similar study from the Baba Farid University of Health Sciences shows that 71.3% of users were fully satisfied with their internet experience while finding dental information online. Dr. Murphy says that as patients continue to turn to the Internet for information about procedures such as clear braces in Phoenix, he hopes to remain at the cutting edge of patient care with the utilization of a mobile website and whatever technology may emerge in the future. Combined with the use of social media, he says his practice has used technology to foster a community of support for patients interested in reliable patient reviews and accurate information.
Regardless of whether patients are looking for medical information about flu symptoms or procedure details about Invisalign in Phoenix, Dr. Murphy says use of the Internet as a valuable medical resource will only continue to grow. However, as patients pursue the most effective treatments for their needs, he urges anyone considering an orthodontic procedure to consult with a board-certified and experienced orthodontist before making a decision. Dr. Murphy says through partnership with a dedicated and technologically up-to-date practice, patients can attain a more aesthetically beautiful smile and improved self confidence.
About Christopher Murphy, DDS
A cum laude graduate of Southern Methodist University, Dr. Chris Murphy earned his Doctor of Dental Surgery degree and his Master's degree in Orthodontics at the University of Texas Health Science Center in Houston. He has been voted by his peers as one of the "Top Orthodontists in Phoenix" by Phoenix Magazine. Board-certified in Orthodontics, Dr. Murphy is a member of the American Association of Orthodontists, the American Dental Association, the Pacific Coast Society of Orthodontists, and several other organizations, and has published numerous articles in various professional journals. His work is required reading for any orthodontist seeking board certification.
Murphy Orthodontics has two locations at 4910 E. Greenway Road Suite 1 in Scottsdale, AZ, reachable at (602) 482-0022, and 13210 W. Van Buren Street, Suite 106 in Goodyear, AZ, reachable at (623) 932-9212. It can also be contacted online via the website murphyorthodontics.com or the Murphy Orthodontics Facebook page.
Previous Post
Next Post