Clear Braces
Traditional metal braces are often what keeps people, particularly adults, from obtaining orthodontic treatment to help straighten their teeth or correct bite issues. The good news is that metal braces are no longer the only option to move your teeth into the desired position. Clear braces utilize a translucent or ceramic material that is much more visually pleasing on the teeth, helping you feel better about your smile during orthodontic treatment. Our board-certified orthodontist, Dr. Chris Murphy, offers a number of clear braces treatments at Murphy Orthodontics. He can help you straighten your teeth, fix overbites or underbites, and look great while doing it!
Benefits of Clear Braces
Although clear braces essentially function in the same way as traditional braces, there is one major difference: they are much less noticeable while you wear them. Made of a plastic alloy or ceramic material color-matched to your teeth, clear braces can also be fitted with clear ties to keep surrounding wires in place. Or, with innovative techniques like Damon® Braces and In-Ovation® Braces, clear braces can be placed without the use of ties at all, making for a more comfortable and more hygienic treatment process. Overall, clear braces make it possible for you to straighten your teeth with less worry about how you look – and that can make a huge difference for patients wary of getting necessary orthodontic treatment.
Clear Braces Types
Dr. Murphy offers clear braces in many different varieties, utilizing an array of orthodontic techniques. The following descriptions include links to pages on our website with more detailed information on the options we offer here at Murphy Orthodontics. Our clear braces techniques include:
Damon® Braces
Damon® System Braces are a revolutionary advance in orthodontic treatment. This option utilizes a special technique called "self-ligation," which does not need metal wires and ties to move the teeth into a more desirable position. Ultimately, Damon® Braces are designed to correct teeth misalignment issues in a more comfortable and discreet way.
Learn More About Damon® Braces
In-Ovation® R Braces
In-Ovation® R braces offer two distinct benefits for patients looking for less noticeable braces alternatives: the brackets are both clear and smaller than traditional braces. The innovative design of In-Ovation® R braces can reduce the pressure on your teeth during treatment and result in a less conspicuous appearance on the teeth. Plus, this technique is known to achieve optimal outcomes in less time when compared to other methods.
Learn More About In-Ovation® Braces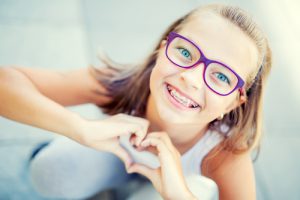 Traditional Braces
Even braces treatment that utilizes more traditional orthodontic techniques can be effective options for patients who are concerned about the prominent appearance of metal brackets on their teeth. Our practice offers both clear and ceramic braces that can address common orthodontic concerns with greater discretion.
Learn More About traditional braces
Invisalign®
One of the major benefits offered by Invisalign® is that it does not require the use of braces at all. This advanced orthodontic treatment involves a series of custom-designed, clear plastic aligners to correct misalignment and bite issues with successful results. The aligners are removable and look virtually invisible along the teeth. Our practice offers the signature Invisalign® treatment for adults as well as the Invisalign® Teen version for adolescent patients.
If you have questions, don't hesitate to contact Murphy Orthodontics today!