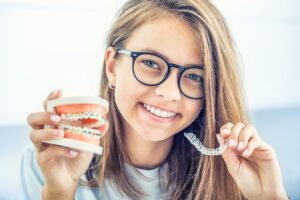 There are a variety of treatments designed to improve common orthodontic concerns, and two of the most popular options for straightening teeth and correcting bite irregularities are Invisalign® and traditional braces. While sharing similarities, each approach has its own advantages and differences. 
Invisalign® – One of the most innovative orthodontic treatments available, Invisalign® is designed to correct signs of "crooked teeth" and/or a misaligned bite. The treatment features a series of clear, removable aligner trays—each is worn for about two weeks before being changed out for another, slightly modified, set. This process can help teeth gradually shift into the desired position. Additionally, the translucent aligners allow for maximum discretion during the treatment process. In fact, they are virtually undetectable to others while they are being worn. Invisalign® typically takes between 6 to 15 months for optimal results. At our practice, Invisalign® can be utilized for mild, moderate, and severe orthodontic concerns. It can even be used in complex surgical cases. As a Diamond Invisalign® Provider, Murphy Orthodontics is in the top 1% with treatment experience, training, and completed cases. 
Braces – A tried and true orthodontic treatment, traditional braces are a common and effective way to correct mild to severe cases of teeth misalignment. Braces can also address gaps between teeth and bite irregularities. While braces typically require a longer treatment time than Invisalign®, the technique is known for producing exceptional results and can sometimes be the best treatment option for orthodontic concerns that are particularly more complex and severe than others. Beyond the well-known metal wires and brackets, there are alternative options such as lingual braces and clear braces that may be more ideal for patients who are concerned about how the fixed brackets will affect smile aesthetics during the treatment process. 
Whether Invisalign® or braces is the best option will need to be determined upon evaluation since each patient has their own unique needs and treatment goals. 
Our board-certified orthodontist, Chris Murphy, DDS, and the team here at Murphy Orthodontics are committed to providing patients with exceptional care, from the first consultation to post-treatment follow-up appointments. Dr. Murphy recognizes how orthodontic concerns can affect a patient's confidence and is dedicated to helping patients of all ages achieve the smile of their dreams. For more information about Invisalign® and braces, please contact our office. 
Previous Post
Next Post