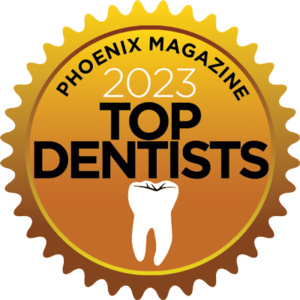 We are very excited to announce that our very own Dr. Chris Murphy has been recognized in Phoenix magazine as a Top Dentist in Orthodontics for 2023! This is the 11th consecutive year that our board-certified orthodontist in Phoenix has been honored with this distinction, and we couldn't be more proud of his achievement.
To make the list of Top Dentists, nominees are submitted by peers in the dental field via surveys asking them to name individuals for whom they feel represent some of the best practitioners in the area. Once the votes are finalized and evaluated, they are published in Phoenix magazine's annual Top Docs edition. Being regularly singled out for such recognition is particularly meaningful for Dr. Murphy. A native of the Phoenix area, he has devoted his life and career to serving the needs of our beautiful city and surrounding communities with orthodontic treatments that have genuinely helped many of our patients improve dental function and beautifully enhance the appearance of their smiles.
Dr. Murphy is deeply grateful to be on the distinguished list of Top Dentists, and he looks forward to continuing our mission to provide the best possible care to both adults and adolescents who need high-quality orthodontic treatment from an established and trusted practice. If you have questions about the treatments available from Murphy Orthodontics, please contact us today!
Previous Post