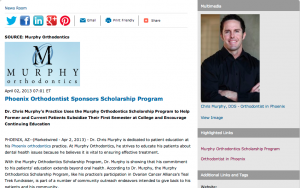 Dr. Chris Murphy's practice uses the Murphy Orthodontics Scholarship Program to help former and current patients subsidize their first semester at college and encourage continuing education.
Phoenix, AZ – Dr. Chris Murphy is dedicated to patient education at his Phoenix orthodontics practice. At Murphy Orthodontics, he strives to educate his patients about dental health issues because he believes it is vital to ensuring effective treatment.
With the Murphy Orthodontics Scholarship Program, Dr. Murphy is showing that his commitment to his patients' education extends beyond oral health. According to Dr. Murphy, the Murphy Orthodontics Scholarship Program, like his practice's participation in Ovarian Cancer Alliance's Teal Trek fundraiser, is part of a number of community outreach endeavors intended to give back to his patients and his community.
The Murphy Orthodontics Scholarship Program awards a $500 scholarship to a graduating high school senior. The scholarship may be applied toward tuition, books, fees or any other related expenses for the students first semester of college.
Scholarship applicants are asked to submit an essay that discusses what the graduating senior hopes to accomplish in his or her personal and professional life after college. The essays, which must be 500 words or less, are then judged by two former teachers and one additional reader who select one winner. In order to be eligible for the scholarship, students must be former or current patients of Murphy Orthodontics.
Dr. Murphy, a Phoenix orthodontist, has been running the scholarship program for the past four years and plans to continue to offer the scholarship annually. The first winner of the Murphy Orthodontics Scholarship Program went on to attend Harvard University. Last year's winner is currently attending the University of Kentucky. Winners of the scholarship have gone on to study subjects such as marine biology and chemical engineering. The deadline for this year's application is March 15th.
About Chris Murphy, DDS
Dr. Chris Murphy is a graduate of Southern Methodist University and earned his Doctor of Dental Surgery degree from the University of the Pacific Dental School. A board-certified orthodontist, Dr. Murphy went on to earn his master's degree in orthodontics at the University of Texas Health Science Center in Houston and offers a comprehensive range of orthodontic treatment including Invisalign®, Damon braces, and more. In addition to being voted by his peers as one of Phoenix's top orthodontists in Phoenix Magazine, Dr. Murphy's published article in The Angle Orthodontist is required reading for any orthodontist seeking board certification. He is a member of several professional organizations, including the American Dental Association, American Association of Orthodontists and the Pacific Coast Society of Orthodontists. Dr. Murphy is available for interview upon request.
Previous Post
Next Post