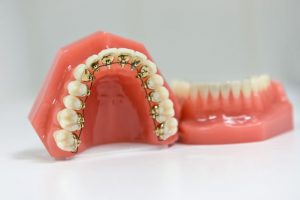 Did you know that you can straighten misaligned teeth or correct bite issues without anyone knowing? Lingual braces, one of the many treatment options offered by Murphy Orthodontics, can improve the look of your smile without the tell-tale signs of metal braces on the front of your teeth.
The braces are virtually invisible to others because they are mounted on the inside surface of your teeth. In addition to the aesthetic appeal of lingual braces, there are other benefits associated with using this type of orthodontic treatment:
You don't have to worry about constantly removing or replacing dental aligners
You also don't have to worry about interrupting your treatment due to losing dental aligners or forgetting to put them back on
We also offer customized lingual wires and brackets with advanced 3D scanning technology
If you are interested in learning more, or if you would like to see if you are a good candidate for lingual braces, please contact us to schedule a consultation with Dr. Chris Murphy.
Previous Post
Next Post