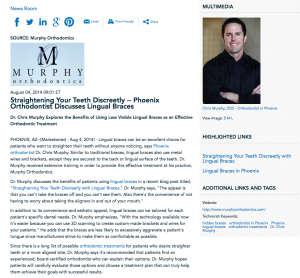 Dr. Chris Murphy explores the benefits of using less visible lingual braces as an effective orthodontic treatment.
Phoenix, AZ – Lingual braces can be an excellent choice for patients who want to straighten their teeth without anyone noticing, says Phoenix orthodontist Dr. Chris Murphy. Similar to traditional braces, lingual braces also use metal wires and brackets, except they are secured to the back or lingual surface of the teeth. Dr. Murphy received extensive training in order to provide this effective treatment at his practice, Murphy Orthodontics.
Dr. Murphy discusses the benefits of patients using lingual braces in a recent blog post titled, "Straightening Your Teeth Discreetly with Lingual Braces." Dr. Murphy says, "The appeal is that you can't take the braces off and you can't see them. Also there's the convenience of not having to worry about taking the aligners in and out of your mouth."
In addition to its convenience and esthetic appeal, lingual braces can be tailored for each patient's specific dental needs. Dr. Murphy emphasizes, "With the technology available now it's easier because you can use 3D scanning to create custom-made brackets and wires for your patients." He adds that the braces are less likely to excessively aggravate a patient's tongue since manufacturers strive to make them as comfortable as possible.
Since there is a long list of possible orthodontic treatments for patients who desire straighter teeth or a more aligned bite, Dr. Murphy says it's recommended that patients find an experienced, board-certified orthodontist who can explain their options. Dr. Murphy hopes patients will carefully evaluate those options and choose a treatment plan that can truly help them achieve their goals with successful results.
About Chris Murphy, DDS
Dr. Chris Murphy was voted one of Phoenix's Top Orthodontists in Phoenix Magazine. He earned his Doctor of Dental Surgery degree from the University of the Pacific Dental School and graduated with a Master's degree in orthodontics at the University of Texas Health Science Center in Houston. Dr. Murphy is board certified by the American Board of Orthodontics and also earned the title of Recognized Specialist from the Kois Center. He is a member of the Pacific Coast Society of Orthodontists, American Association of Orthodontists, Arizona Orthodontic Study Group, and the American Dental Association. Dr. Murphy is available for interview upon request.
For more information about Dr. Chris Murphy and Murphy Orthodontics, visit murphyorthodontics.com and facebook.com/MurphyOrthodontics.
Contact:
Murphy Orthodontics
Phoenix Office
5355 East High Street
Suite 105
Phoenix, AZ 85054
(602) 482-0022
Goodyear Office
13210 W. Van Buren Street
Suite 106
Goodyear, AZ 85395
(623) 932-9212
Rosemont Media
[email protected]
(858) 200-0044
www.rosemontmedia.com
Previous Post
Next Post