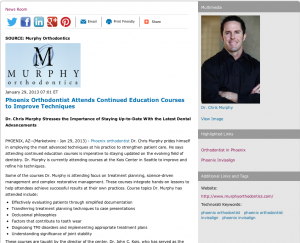 Dr. Chris Murphy stresses the importance of staying up-to-date with the latest dental advancements

Phoenix, AZ– Phoenix orthodontist Dr. Chris Murphy prides himself in employing the most advanced techniques at his practice to strengthen patient care. He says attending continued education courses is imperative to staying updated on the evolving field of dentistry. Dr. Murphy is currently attending courses at the Kois Center in Seattle to improve and refine his techniques.
Some of the courses Dr. Murphy is attending focus on treatment planning, science-driven management and complex restorative management. These courses integrate hands-on lessons to help attendees achieve successful results at their own practices. Course topics Dr. Murphy has attended include:
Effectively evaluating patients through simplified documentation
Transferring treatment planning techniques to case presentations
Occlusional philosophies
Factors that contribute to tooth wear
Diagnosing TMJ disorders and implementing appropriate treatment plans
Understanding significance of joint stability
These courses are taught by the director of the center, Dr. John C. Kois, who has served as the president for both the American Academy of Restorative Dentistry and American Academy of Esthetic Dentistry. Each course provides 27 continued education credit hours and includes lectures, demonstrations, case presentations and discussions.
At his Phoenix orthodontics practice, Dr. Murphy offers several procedures designed to give patients straighter smiles, including Invisalign®, Damon braces and traditional metal braces. He strives to practice the most effective techniques and believes that attending continued education courses plays a significant role in strengthening patient care.

About Chris Murphy, DDS
Dr. Chris Murphy is a board-certified orthodontist who earned his Doctor of Dental Surgery (DDS) degree from the University of the Pacific Dental School. He then earned his Master's degree in Orthodontics at the University of Texas Health Science Center in Houston. Dr. Murphy is a member of several organizations, including the American Dental Association, American Association of Orthodontists and the Pacific Coast Society of Orthodontists. He is extensively trained in procedures such as Invisalign® and orthognathic surgery. Dr. Murphy is available for interview upon request.
Previous Post
Next Post