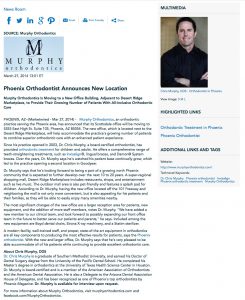 Murphy Orthodontics is moving to a new office building, adjacent to Desert Ridge Marketplace, to provide their growing number of patients with all-inclusive orthodontic care.
Phoenix, AZ – Murphy Orthodontics, an orthodontic practice serving the Phoenix area, has announced that its Scottsdale office will be moving to 5355 East High St. Suite 105, Phoenix, AZ 85054. The new office, which is located next to the Desert Ridge Marketplace, will help accommodate the practice's growing number of patients to combine superior orthodontic care with an enhanced patient experience.
Since his practice opened in 2003, Dr. Chris Murphy, a board-certified orthodontist, has provided orthodontic treatment for children and adults. He offers a comprehensive range of teeth-straightening treatments, such as Invisalign®, lingual braces, and Damon® System braces. Over the years, Dr. Murphy says he's watched his patient base continually grow, which led to the practice opening a second location in Goodyear.
Dr. Murphy says that he's looking forward to being a part of a growing north Phoenix community that is expected to further develop over the next 10 to 20 years. A super-regional shopping mall, Desert Ridge Marketplace includes restaurants, shops, and entertainment such as live music. The outdoor mall area is also pet-friendly and features a splash pad for children. According to Dr. Murphy, having the new office located off the 101 Freeway and neighboring the mall is not only more convenient, but is also appealing for his patients and their families, as they will be able to easily enjoy many amenities nearby.
The most significant changes of the new office are a larger reception area for patients, new equipment, and the addition of more staff members, notes Dr. Murphy. "We have added a new member to our clinical team, and look forward to possibly expanding our front office team in the future to better serve our patients and parents," he says. Included among the new equipment are Boyd dental chairs, Sirona X-ray machinery, and a Statim sterilizer.
A modern facility, well-trained staff, and proper, state-of-the art equipment in orthodontics are all key components to producing the most effective results for patients, says the Phoenix orthodontist. With the new and larger office, Dr. Murphy says that he's very pleased to be able accommodate all of his patients while continuing to provide excellent orthodontic care.
About Chris Murphy, DDS
Dr. Chris Murphy is a graduate of Southern Methodist University, and earned his Doctor of Dental Surgery degree from the University of the Pacific Dental School. He completed his Master's degree in orthodontics at the University of Texas Health Science Center in Houston. Dr. Murphy is board-certified and is a member of the American Association of Orthodontists and the American Dental Association. He is also a Delegate to the Arizona Dental Association House of Delegates, and has been recognized as one of Phoenix's top orthodontists by Phoenix Magazine. Dr. Murphy is available for interview upon request.
For more information about Murphy Orthodontics, visit murphyorthodontics.com and facebook.com/MurphyOrthodontics.
Contact:
Murphy Orthodontics
Phoenix Office
5355 East High St. Suite 105
Phoenix, AZ 85054
(602) 482-0022
Goodyear Office
13210 W. Van Buren Street
Suite 106
Goodyear, AZ 85338
(623) 932-9212
Rosemont Media
[email protected]
(858) 200-0044
www.rosemontmedia.com
Previous Post
Next Post