Invisalign® vs. Direct-to-Consumer Teeth Straightening Systems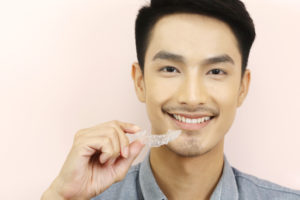 You may have seen commercials and advertisements for direct-to-consumer teeth straightening systems that can be used at home. The appearance and basic function of some of these options are similar in design to Invisalign®, which is the clear plastic orthodontic aligner system used here at Murphy Orthodontics, but there are very significant—and very important—differences between them. Invisalign® is a prescription-only orthodontic treatment. When you have an Invisalign® program developed by a qualified Invisalign® practitioner such as our board-certified orthodontist, the treatment is carefully monitored and we believe the outcome can be predicted with greater accuracy. We also believe that successful results are more likely when the treatment protocol is overseen by experienced and trained orthodontic professionals. With direct-to-consumer teeth straightening systems, patients may not be required to visit an orthodontist or a dentist in-person, and virtually the entire process can be done remotely. Dr. Chris Murphy and our team feel that this is a particular disadvantage since patients are not given the benefit of having real-time oral evaluations of how the treatment is working. 
To be sure, direct-to-consumer teeth straightening systems may offer a number of things that are very enticing, including a relatively low price and the ultimate goal of correcting certain levels of teeth misalignment. However, we believe Invisalign® is a better and more predictable way for patients to achieve their goals in a quicker amount of time. Dr. Murphy also feels that Invisalign® is the best option for patients who have "rotated" teeth"; larger teeth than the face can accommodate; and cavities or infections that need to be regularly evaluated during the treatment process. In terms of cost, it is also important to remember that Invisalign® is typically covered under dental insurance policies that offer benefits for orthodontic treatment. Additionally, our practice offers numerous payment options, and we work with reputable companies that can provide qualified applicants with orthodontic financing arrangements that make the price of treatment more affordable and convenient. 
If you are considering your options for orthodontic treatment, Dr. Murphy recommends seeing a qualified professional who can perform a thorough evaluation and talk with you about specific treatment options, alternatives, and the risks and benefits of particular procedures so you have a clear idea of what can be achieved. For more information, or to schedule a complimentary Invisalign® consultation, we invite you to contact Murphy Orthodontics today.
Previous Post
Next Post