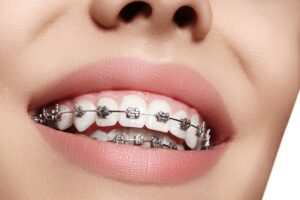 Adolescents and adults now have a vast selection of options when it comes to straightening their teeth, improving bite irregularities, and correcting other orthodontic conditions. While traditional braces have been a tried-and-true method for decades, advances in orthodontic treatment have made it possible to correct teeth misalignment and other concerns with different techniques. These new options allow many patients to achieve effective results in a more discreet, and often less time-consuming way. 
One of the alternatives to traditional braces here at Murphy Orthodontics is the Pitts 21™ Self-Ligating Braces System. Here is a brief explanation of how the Pitts 21™ System and other types of braces work so you can learn more about the distinctions: 
Pitts 21™ Self-Ligating Braces
The Pitts 21™ System involves what is known as "self-ligating" braces, which can quicken the pace of shifting the teeth into a straighter position. The brackets that are placed on the teeth are smaller than those typically used for traditional braces, and they are affixed to the teeth closer to the gumline, making them a bit less noticeable. They also use an innovative method of threading the connecting wire through the brackets—a method that can minimize friction and reduce the necessity of elastic bands. The Pitts 21™ Self-Ligating Braces System is designed to use less force while shifting the teeth, which can make the entire treatment experience more comfortable. 
Traditional Braces
Traditional braces, which can use metal, clear, or ceramic brackets to correct misalignment and other orthodontic concerns, often require metal or elastic bands to aid the process. These can create friction amongst the teeth and accrue bacteria and plaque. When compared to the Pitts 21™ System, traditional braces can be a bit more difficult to clean. Some types of traditional braces also have a higher profile on the teeth and are more noticeable during the treatment process. Since some kinds of traditional braces use more force to move the teeth than Pitts 21™ Self-Ligating Braces, patients may experience more of a pressure sensation while wearing them. With all of this in mind, traditional braces have also seen a number of advancements over the years to make the treatment process more efficient and comfortable. These options may be more suitable depending on the severity of the orthodontic concerns being addressed and the patient's ultimate goals. 
Both the Pitts 21™ System and traditional braces can improve concerns such as gaps between the teeth, crowding, crooked teeth, and bite irregularities. The best option for your needs can be determined during an initial consultation with Dr. Chris Murphy, who will evaluate your teeth and jaws and talk with you about your needs and expectations. At Murphy Orthodontics, we strive to create a truly customized treatment plan for our patients that offers the best chance at success while providing the easiest and quickest treatment experience possible. 
If you have questions about our orthodontic treatment options, please don't hesitate to contact us! 
Previous Post
Next Post