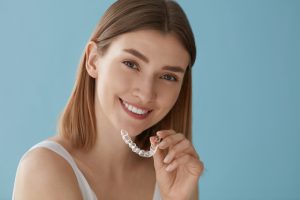 While a large number of adults experience common orthodontic concerns such as misaligned teeth or an irregular bite, many individuals avoid getting treatment because they do not want prominent metal braces to affect the appearance of their smile. But with state-of-the-art advances that have been made in orthodontic treatment techniques over the years, more and more people are deciding to have treatment after they've already reached adulthood. One of the reasons for this is that there are now a variety of options available that are specifically designed to reduce the noticeability of orthodontic appliances, making patients less wary of the potential aesthetic drawbacks of treatment. 
Here at Murphy Orthodontics, we offer some of the latest orthodontic procedures that can effectively straighten the teeth and correct bite irregularities while providing a much more discreet way of accomplishing those goals. These options include: 
Invisalign® 
Utilizing a system of removable aligners made of a translucent plastic material rather than metal brackets and wires, Invisalign® offers adult patients a way to correct mild to moderate orthodontic issues without anyone knowing. The customized aligners are thin and flexible, and they are virtually invisible on the teeth. 
Lingual Braces
Lingual braces essentially work the same way as conventional braces; however, this unique treatment involves placing the braces on the back of the teeth instead of the front. While this option still utilizes brackets and wires to fix orthodontic problems, lingual braces are completely hidden from another person's view when you smile. 
Clear Braces 
For patients with more severe misalignment, crowding, or bite irregularities, braces may be necessary to provide the most effective correction. However, that doesn't mean they have to be made of prominent metal that can immediately draw attention. Dr. Murphy offers both clear braces and ceramic braces that are less noticeable on the teeth, allowing patients to more discreetly improve orthodontic issues by using a traditional—yet not as visible—treatment technique. 
Dr. Murphy also offers advanced options such as Pitts 21™ self-ligating braces, which utilize techniques designed to provide less conspicuous orthodontic treatment and a faster overall treatment time when compared to traditional metal braces. During your initial consultation, Dr. Murphy can evaluate your needs and go over the options that can provide you with the most effective and discreet orthodontic treatment possible. 
Please don't hesitate to contact Murphy Orthodontics with any questions you may have!
Previous Post
Next Post