Home/Blog / 2016 Adopt-a-Charity: Murphy Orthodontics Walks for the Creutzfeldt-Jakob Disease Foundation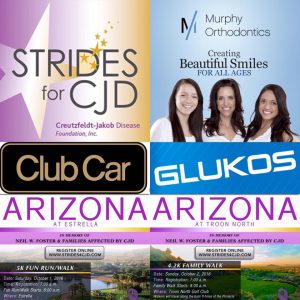 Each year, our orthodontist, Dr. Chris Murphy, and the team here at Murphy Orthodontics "adopts" a single charity with which to partner or sponsor. We always try to choose charitable causes that deal with issues or conditions that affect our own patients or their loved ones, or members of our team and their friends or family members. Last year, we joined arms with the Epilepsy Foundation of Arizona. This year, we have chosen the Creutzfeldt-Jakob Disease Foundation.
Creutzfeldt-Jakob Disease, or CJD, is what's known as a prion disease. It is the best-known prion disease in humans. CJD is an invariably fatal brain disorder that affects about one person in every million people across the globe each year. The condition typically begins with symptoms such as memory loss, visual disturbances, lack of coordination, and behavioral changes. It then can lead to pronounced mental deterioration, blindness, involuntary movements, coma, and other symptoms. It is estimated that about 90 percent of those suffering from CJD die within one year. There are four major types of CJD: sporadic, hereditary, acquired, and variant. Sporadic is the most common type (accounting for at least 85 percent of cases), and is characterized by the occurrence of the disorder when an individual has no known risk factors for CJD. About 5 to 10% of CJD cases in the U.S. are found to be hereditary.
At Murphy Orthodontics, we are always open to suggestions from our patients as to which charity to pick for the year. This disease has directly affected an individual who has been a patient of ours for four years. In fact, there have been multiple people in her family that have been affected, including her father. She asked us if we would be interested making this our Adopt-a-Charity, and it sounded like an excellent idea.
Some of the ways in which we will be supporting the Creutzfeldt-Jakob Disease Foundation include putting up information in our office about the charity and asking our patients to help us donate. Our staff and family members also just participated in the Strides for CJD Walk held on October 1st in Scottsdale, a terrific event that brought major awareness to the cause!
You can learn more about the CJD Foundation here.
If you are a patient and would like to get involved, we have a bank set up in our office so that you can donate "Murphy Money" to the organization. Dr. Murphy makes a monetary donation for every "Murphy Money" allotment that is collected. Also, if there are any contests going on in our office, Dr. Murphy will make a donation for every patient entry.
We are very proud to give back to our community, and to be a part of this worthy cause. We sincerely hope that our efforts will help to bring awareness to CJD – a rare, but devastating condition. If you have any questions about how you can contribute, please contact Murphy Orthodontics today!
Previous Post
Next Post