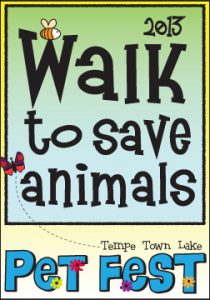 On Saturday, Nov 9th, our dental team at Murphy Orthodontics is excited to announce that we will be participating in the Arizona Animal Welfare League & SPCA's 2013 Walk to Save Animals. We are encouraging our patients and their families to join us to help "Take a Bite out of Homelessness!"
The event will take place at Tempe Town Lake, Beach Park in Tempe, AZ, and participants can choose between a 2K and 5K walk. The Walk will also feature food, entertainment, exhibitors, raffles, and pet adoptions. All proceeds will go towards local shelters (many of which are overcrowded) for food and medical treatment of the animals. "As pet lovers, we passionately believe in the noble cause of helping homeless pets find forever homes where they will no longer be abandoned, abused, or neglected," says our orthodontist Dr. Chris Murphy.
Sadly, statistics from the Humane Society of the United States (HSUS), report that only about 30 percent of pets in homes come from shelters and rescues. Furthermore, approximately 3-4 million dogs and cats are euthanized in the U.S. each year. Dr. Murphy says that by participating in the Walk, he hopes it will help bring awareness to the community and promote caring for homeless animals.
Here at Murphy Orthodontics, community involvement has always been an important part of our practice. "We are proud to say that our patients and families enthusiastically support our commitment to the community," says Dr. Murphy. "We are passionate about the many good things that charities do which make our community a better place in which to live. Giving back is one way we can say thank you as well as honor our patients and their families."
Contact Us
If you would like additional information, or to schedule an appointment here at our office, please contact us today.
Previous Post
Next Post