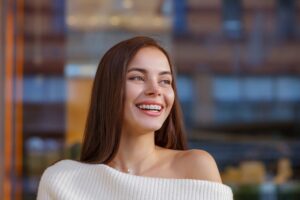 With adults making up 25 percent of orthodontic patients in the U.S.* – and that number continuing to grow – it may be helpful to gain a better understanding of the dental devices that can best fit your lifestyle. Fortunately, developments in orthodontic functionality are making it easier than ever to find an ideal solution to fix common teeth alignment and jaw and/or bite concerns unique to each patient. This is also true for what you may think about traditional metal braces; however, not all wire and bracket duos are the same. Below, our board-certified orthodontist in Phoenix, Chris Murphy, DDS, highlights how Pitts 21™ Self-Ligating Braces can improve smiles – often more quickly and comfortably than their more conventional braces counterpart.
Similar to traditional braces, Pitts 21™ System Braces can be a good fit for most individuals experiencing spaces or gaps between teeth, overcrowded or crooked teeth, a misaligned jaw, or bite irregularities. Yet, the advanced design employs an innovative system of specialized clips built into the bracket directly attached to the archwire, rather than using elastic ligatures (rubber bands). How is this helpful? These clips enable the braces to be "self-ligating," which means the system gently tightens on its own, allowing the teeth to move in less time and with greater comfort. In fact, a study* found that self-ligating braces can align upper teeth substantially faster in the initial four months of treatment, which may help to shorten the duration of treatment. Additionally, without the inclusion of rubber bands, food and bacteria are less likely to get trapped, so maintaining good oral hygiene can be easier with more accessible brushing and flossing. Another benefit of the self-ligating system is that it generally requires fewer trips to the orthodontist for tightening appointments. 
During an initial consultation, Dr. Murphy will complete a thorough evaluation of your teeth and jaw to develop a customized treatment plan specific to your orthodontic conditions. Dr. Murphy prioritizes treatments based on the best chance for success, along with providing patients with the easiest and fastest solution possible. 
To find out if Pitts 21™ braces are right for you, or to schedule a consultation, please contact Murphy Orthodontics today. 
*Resources: 
American Association of Orthodontists 
Previous Post
Next Post