Patient of the Month
We are proud to announce our most recent "Patient of the Month"!
Each month those patients who have had their braces removed will be eligible to qualify for this recognition.
Selected "Patients of the Month" have exhibited excellent cooperation, enthusiasm and a great attitude throughout treatment.
Patient of the Month
October, 2013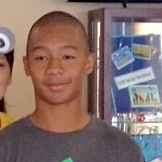 "CONGRATULATIONS, MAJ!"
Previous Patient of the Month Honorees:
September:  Cole
August:  Remy
July:  Camerin
June:  Connor
May:  Lisa
April:  Jayson
March:  Alanna
February:  Oliver
January:  J.D.
December:  Maddie J.
November:  Mark S.
October: Melissa R.
September:  Marko H.